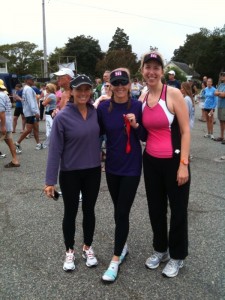 Deb told me about the Osprey triathlon last week and even though my tri season was over I thought it would be a fun trip. Christy was going to do her first tri and Deb was there to help Christy. Christy and Deb were cheering for me to take the overall and we all had fun on the drive up toward Ocean city predicting what race day had in store for each of us.
Wow what a great event! As Rick Brokaw said it, "It's like the old school Triathlon's, laid back and just fun!" I spoke with Rick about an hour before the race start, he was my coach for a brief period in my early years of triathlon and I knew him to be a great athlete… He explained the course to me since he had done it prior years and gave me some good tips.
After my warm up, which consisted of 15 min of easy running and talking with the previous years 3rd place overall male, I walked back to my transition. My friends Deb and Christy were there with their wetsuits already on. Christy had to make a quick change when we realized her's was on backwards which made us all giggle:)
Rebecca, a former Track athlete from Towson university was there too. When we ran into each other in transition we hugged and sprayed her down with wet suit lube, kinky huh:) I met Rebecca when I coached her and other sports teams for strength training out Towson University a few years agao, what a great runner. After a comment about my pointy aero helmet and me saying how gay it looked, Deb said don't worry just go out and kick some butt.
I knew when I passed all the women from the first wave on the bike I had a 6 min lead and that's when I felt like I a chance to WIN IT!
The horn sounded and wave 3 along with me and all the other 30-35 year old women took off splashing and citing for the bright orange buoys… When we hit the doc most of us slipped down the stairs we had to climb up to get onto land. I felt a bit of pressure to win even though there were 500 people competing I knew I had a chance with the field.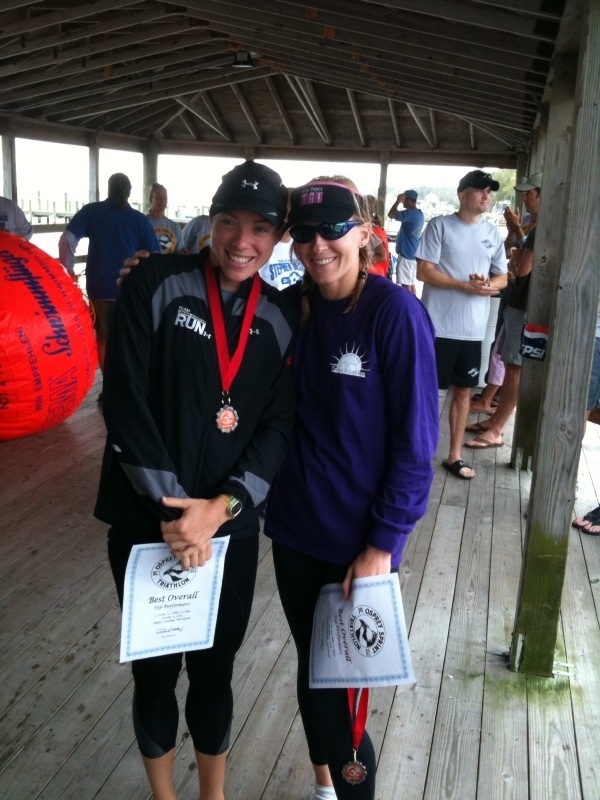 Deb, is a motivator, when we saw each other at the last ½ mile of the run she yelled pick it up as I high fived her and exchanged cheers. She looked strong and I felt happy to see Christy running not too far behind. Christy was smiling and I knew she was going to finish strong. She proved to do that and beat her goal by a huge margin.
I had such a great time and all of us had wonderful races. Rebeca took second female and I was very happy for her.
It was a great day for me and I managed to get the record for 3rd fast time for females. Since my last race in August I have not been very motivated but doing the race sparked excitement for the sport and for others. Next up will be the Towson Turkey Trot which is a 5k event put on by th YMCA. The prize is a Turkey:)