Introduction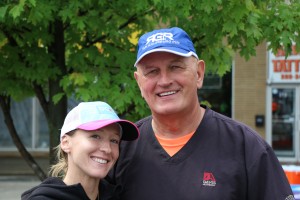 Dave Dunn, my amazing long time friend and Run Galesburg Run producer, picked David, Twix (our doggie) and I up from the airport. I was excited to see Dave and always love visiting Galesburg. This would be my 3rd year racing the event in its four years of existence.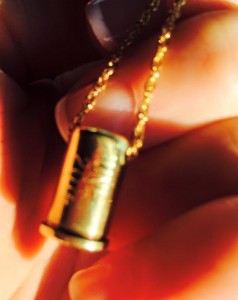 Dave handed me a small box as we drove away from the airport. I opened the box and saw a gold bullet casing. It was the bullet from the gun that sounded the start of last years Run Galesburg Run race. I was blown away by such a thoughtful and fun gift! The gold bullet necklace has a special meaning to me. Last year at Run Galesburg Run my husband David helped pace me to a first place finish in the Half Marathon. Every year I run the race I want a win badly since it is my friend's event. The bullet reminds me that when you put your heart into something all things are possible.
Race Day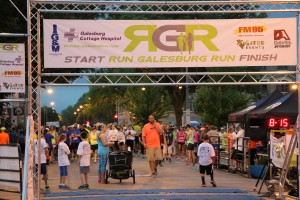 On race morning, about an hour from start time, I began to warmup. Warming up consisted of 15 min easy running plus four times 30 sec. race pace efforts with a 1 min. recovery in between efforts. Then I did dynamic stretches, drills and strides. After warmup, I returned to the start line with the other Half Marathoners and 5k racers under a black cloudy sky.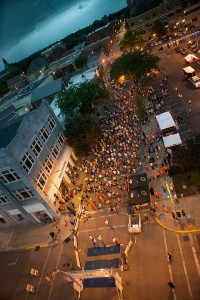 The gun sounded the race start sending us off into a sudden torrential downpour. The hard rain started within the first mile and deep puddles had already formed along the route. To my surprise, the other runners seemed to embrace the rain. A guy running next to me looked over and yelled "YEAHHHHH" and lifted his arms up toward the sky as he ran. I quickly noticed two girls ahead of me after the first mile separated the Half Marathons and 5k runners. I kept my sight on both my Garmin for pacing and the two ladies ahead. The other runners and I jumped around and ran through the deep puddles to find our positions and navigate the course. My shoes were quickly saturated and felt like weights.
Around mile 3 the rain lightened up and I caught up to a girl who immediately picked up the pace as I tried and pass her. I stayed close to her for a couple of miles then pulled ahead. I was having the best race of my life and feeling the most fit and confident I have felt in a long time. The volunteers were amazing, standing out in the rain, cheering and handing the runners water and fuel.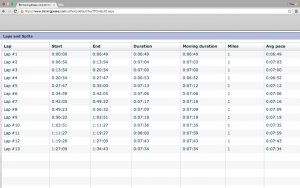 After the hilliest section of the course, I started to feel tension in my left knee. The girl who I had passed earlier caught back up and passed me. I stayed close behind her holding about a 7:05 average mile pace through mile 9. My left knee tightened up even more. The pace felt controlled enough for me to negative split the second half of the race, but my knee pain slowed me down around mile 10.
Somewhere between miles 10 to 11, I had to stop for a moment to stretch. The stretching helped me realign my hips so I could start running again. The next 2 miles felt slow and long plus the knee pain felt like I might have to stop entirely. The knee pain was caused my Illiotibal band (IT) tightening – I had made a big mistake by letting my strength training slip out of my training program during the last couple of months. I did some great speed work, tempos and long run progressions in training but failed to do enough strength work to keep my body in balance.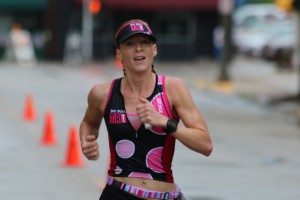 After slowing down almost 1 minute per mile for the next couple of miles and managing my body, I felt some relief. I picked up the pace a little for the last mile and smiled big with my arms held high as I crossed the finish line. Brad Rex announced my finish and added that I normally look for change at the finish line (I'm usually falling down on the ground from exhaustion).
Today I would finish a race with something left in the tank. I was lucky to maintain 3rd place female for the last few miles and finish with a time of 1:35:54. The papers titled the event, "Racing in the Rain" and local radio stations and social media blasted the news of another successful year for Run Galesburg Run!
Krista
About Run Galesburg Run
Run Galesburg Run provides an avenue for a healthier and more active community.  There is a race for everyone including a 1 mile fun run, 5k, half Marathon and a wild post race party. Everything is top notch including the volunteers race announcer, run course, swag, food, and music.