Our Trip to San Diego
My husband, David, and I traveled to San Diego for a visit with his mom this past weekend and enjoyed the beautiful scenery and weather.
David's friend Rich picked us up from the airport and  we ate breakfast at The Great Maple, which I highly recommend! We ordered the maple and bacon donuts to share; they were heavenly.  I also had an Eggs Benedict dish with spinach, mushrooms, potatoes and fried goat cheese. Everything was delicious.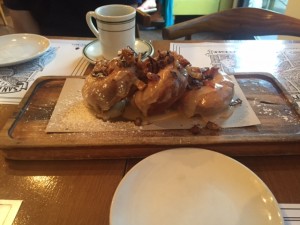 After breakfast Rich took us site seeing up to Point Loma for beautiful views.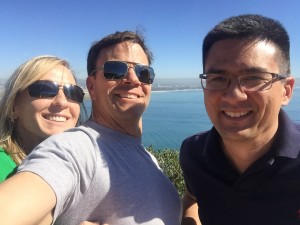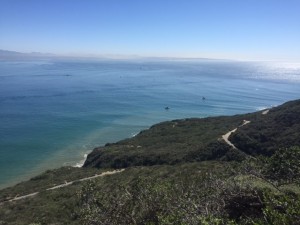 After site seeing we headed to Carlsbad, where David's mom lives, and met my sister Greta there for a nice dinner. We went to bed early in preparation for a 5am wake up call for The Mermaid Half Marathon the next day.
The Mermaid Half Marathon: Race Day
David drove us to the race start. It was easy to park and find the check-in area. The morning was foggy and cool but warm enough to run in shorts and a tank top.  Many women were wearing green tights that looked liked a mermaid's tail and other costumes.
We met up with our friends Adelaide and Kennett. Adelaide and I had planned to start the race together and help pace each other and I was excited to have her there.
The Race, 13.1 miles
Adelaide and I started near the 1:40 pacer and kept him in sight as we hit an average of a 7:30 mile pace through miles 1-10. I felt like we were cruising at a nice steady pace that was challenging yet very manageable and having Adelaide next to me made it feel easier then if I were alone out there. The course was flat and once the fog lifted the beautiful scenery was visible.
We saw David and Kennett at about mile 5. David was taking photos and cheering and Kennett was getting his long run in and checking on Adelaide. The crowds were great and the other ladies racing were very supportive of each other saying things like "Great job!" and "You look strong!" There was also a 5 and 10k going on and that got a little congested since their course was along our route but there was plenty of room for everyone along the route.
At mile 10 I was able to descend slightly and catch some women who were not far ahead. I had to work hard to catch a woman near the end who was in reach and was able to pass her with less then a quarter mile to go. The woman I passed was very kind and congratulated me at the end. After the race Adelaide and I received compliments from several racers on our race pace and run cadence.
The venue was very well supported with aid stations that had plenty of water, Gatorade and fuel for everyone. I would definitely do this race again and highly recommend it to others.
Training
Adelaide and I trained together for 5 weeks for the Mermaid Half Marathon. We did several run sessions together, completing  3-4 runs each week including a speed/interval session, longer run and some tempos and hills within some of our long runs.
In addition to running we did our own strength, swim and bike sessions for cross training, injury prevention and strength. The plan worked well because I was able to achieve a good level of fitness early in my race season and Adelaide achieved a personal record (PR)!
Race Results and Future Events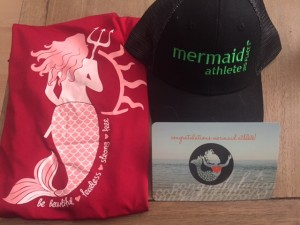 I placed 7th female overall and 3rd in my age group with a 1:38:02 (7:29 mile pace). Adelaide and I both received awards for 3rd places in our age groups.
My PR for the Half marathon distance was in 2015 at the New Orleans Rock 'n' Roll Half Marathon in a time of 1:33:37 (7:08 mile pace). I was very happy with my race results at the Mermaid Half since I trained at least twice as long for my PR in New Orleans.
My planned run events for 2016 include: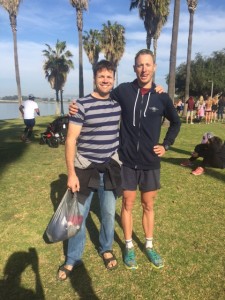 A special thanks to our race supporters David Glover and Kennett Peterson and to the Mermaid Half Marathon for the great venue and awards!
After the race we enjoyed time with David's Mom, her husband, Bill, and my sister, Greta.
On Sunday we met up with Justin and Janet, Davids friends, and enjoyed some awesome San Diego restaurants. My favorite thing about San Diego and other parts of California is the breathtaking ocean and beautiful beaches. If you are looking for a great vacation and/or a nice half marathon then San Diego and the Mermaid Half Marathon are excellent choices!
More photos from my trip: