About the Luray Triathlon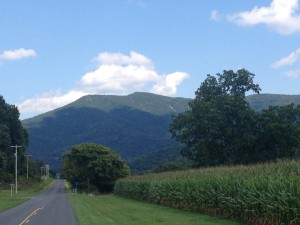 Luray Triathlon is the perfect event from beginner to  advanced triathletes. The course is beautiful and hilly. The views are breathtaking and the mix of hills, false flats and straightaways keep the bike and run exciting.
The race is  family and spectator friendly and you can camp at the race site (Lake Arrowhead Park).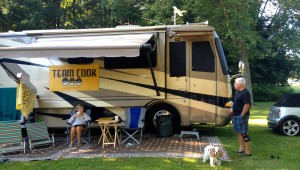 Luray Triathlon also gives back to the community by donating to United Way of Page County and supporting clubs and teams. There is a page on the Luray Triathlon website dedicated to the clubs and teams. It was exciting to see all the club tents set up and the members supporting each other.
Luray Triathlon was recently featured in the Washington Post in an article titled: "How to prepare for your first sprint triathlon."
My Husband, the Race Organizer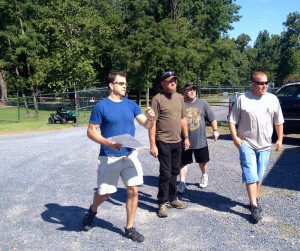 My husband, David Glover, is the founder and organizer of Luray Triathlon. He works hard all year to coordinate a fun, safe and quality event for more than 2,000 athletes, spectators and  volunteers on race weekend
Along with David there are so many wonderful people who help make the race a reality with their all their hard work and dedication.
The $5,000 Prize Purse and New Course Records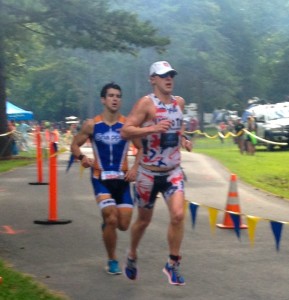 For the first time this year, Luray Triathlon offered a $5,000 cash prize purse ($2,500 each race) that was open to both elite and amateur athletes. It was impressive to see the level of talent it attracted.
Course records were set by Daniel Feeney and Calah Schlabach in both the International distance and sprint triathlons. The top 3 male and female finishers each day were amazing! I enjoyed meeting Steve Rosinski who was overall 3rd in the International and 2nd in the Sprint. Steve was very friendly and helped the race announcer identify numbers of finishing athletes on Sunday after racing.
My Two Races
I competed in the international on Saturday and a relay with the She Does Tri girls on Sunday. I placed 8th female in the international and our women's relay won the Sprint female relay category.
My Luray International Race on Saturday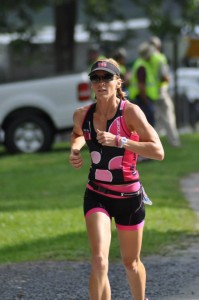 I have been battling adrenal fatigue since 2009 so have not been able to train as intensely as in the past. My top performance at Luray International was back in 2008 when I finsished 3rd female and 15 min faster than this year. After this years race I was happy to feel strong and recover quickly.  I had fun racing and have learned more each year about how to manage my fatigue and still enjoy competition.
Lake Arrowhead is very calm and the temps were perfect for a wetsuit. Once the swim started,  I could not keep up with the lead pack but found a guy to help me keep a steady pace. I exited the swim behind the guy and ran quickly up the stairs toward transition. The crowds at the top of the hill were awesome!
I was in and out of transition and once on the bike I felt strong but could not push the intensity I would have liked for a 26 mile ride. The bike course is challenging and somewhat tactical so it is nice to know where turns, hills, false flats and descents are located. I always recommend pre-riding this course if possible.
The ride felt great which I knew would not result in a fast time but I gave it all I had and looked forward to the run. The final climb on the bike course is exciting because there are spectators ringing bells and cheering.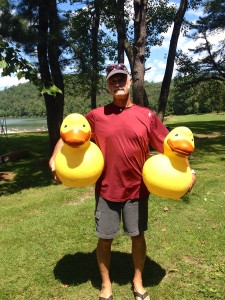 When I entered transition and took off on the run I heard Brad Rex, race announcer, say something that I couldn't quite understand, but I knew it had to be funny because people were smiling as I ran by.
I ran strong but could not find the upper gear I needed to go faster. The top women were well ahead and I had to work at avoiding the feeling that I should have raced age group instead of the Open/Elite division.
Once I crossed the finish line,  I felt good. I cannot remember the last time I felt that good post race and had a decent finish time.  I am looking forward to making more progress next triathlon season and maintaining my regained energy levels.
My First Triathlon Relay in the Sprint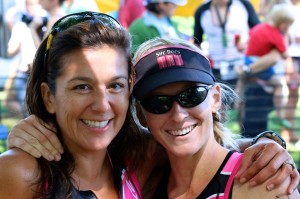 The She Does Tri relay included Andrea Mathias (swimmer), Mayra Osorio Krueger (cyclist) and me as the runner. Andrea swam like a dolphin and Mayra rode like a pro then I was off on the 5k run.
A woman caught me about a half mile into the run and I noticed she was a relay. We ran side by side for about a mile and I clocked us at about a 6:30 pace at the first mile marker. We passed a guy and he yelled, "Iron Wars" which would have made me laugh out loud if I wasn't breathing so heavy. I pulled away from her slightly at the turn around but I could feel her close behind.
Once we hit the last mile and started climbing the final hilly section she pulled away. I gave all my energy to the hills and could see her turning the corner about 20s ahead.  The woman finished before me and after chatting with her at the finish line she said she was in the mixed relay category. We agreed that it was helpful to pushed each other. This was such a great experience and a ton of fun!
Friends Racing
It was especially nice seeing friends and team mates compete.
Andrea, Mayra and Doug Alban did a mixed relay on Saturday  and took their spot on the podium.  Mindy, my good friend and old room mate, swam in  relays both days. Mindy brought her husband and daughter with her to camp and enjoy the festivities of the weekend. It was great to see them and share in the fun!
The talented KC did the "Devils Double" and received multiple awards, which is no surprise.  KC is a strong runner and we see her on the podium in just about every triathlon she does.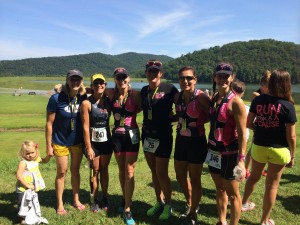 I look forward to racing with KC because she has a great attitude, works hard and loves wine:)   It was wonderful seeing such a strong presence of the She Does Tri Community at Luray Triathlon this year and I look forward to more racing with the awesome ladies!
More Photos from Luray Triathlon