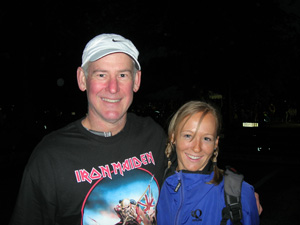 The photo above is from Columbia triathlon this year but I will post pics of Canada when I get some from Bill.  I am very proud of Bills accomplishments at Canada.  Bill accomplished many of his goals and finished a very tough course and Iron Man is never an easy distance.  I posted his complete race report.    Here is what Bill says:
For those who want the gory details, enjoy!

A Good Day

I had several goals for this race which in order were:
– Finish
– Enjoy the day
– Avoid the major gastro issues (and the ill feeling) from previous races
– Fast efficient transitions
– No stops other than special needs on the bike
– Break 13 hours

Race morning started at 4:00am with coffee, banana and oatmeal. Catherine drove Jean, Michael (our friends from Toronto we rented a house with) and I to the race site. We went through the gauntlet to drop off special needs bags (into numbered moving boxes for transport…a nice touch) and then have our bodies marked. We went into transition to fill our tires and get ready for the day. Forecast was sunny, dry and hot!
Swim:
The swim is a triangular, one loop course in Lake Okanagan. Water temp was perfect for long sleeves and with no wind the lake was calm. We had been instructed at the camp I attended to start on the inside right to avoid the mayhem of the crowd. Best advice of the day! I started just a few feet off the start line on the right and was able to stay right on the buoy line for the entire swim. The first kilometer of the swim was fairly chaotic but not nearly as rough as Placid. A great swim day with a 1:07 (same time as Placid 2 years ago).
T1:
I spent 12:01 in T1 in Placid in 2007 so any improvement was free time! This time I did a dry run of what I needed to do and simplified the steps. After stripping my suit I ran straight to my bike bag location (they are lined up in order on the ground) and headed for the change tent.  I saw no available seats so I just plopped on the ground outside the tent to work. My plan worked and after I gave the bag to a volunteer I made my way to my bike . Total time from swim exit 4:55.
Bike:
The bike course is a one loop 112 mile route that runs south from town. My plan was to be conservative (Zone 2 some Zone 3)from Penticton to Osoyoos (this section is mostly flat), keep my heart rate high zone 3 on the climbs at Richter Pass and Yellow Lake and get ready for the run on the way back into town. Unfortunately, my Garmin 310XT heart rate function was not working well on the first section of the bike. I could not get it to regularly read my heart rate (a new monitor arrived at home after I left!) so I had to go by feel. The bike was very congested on the first leg and drafting was rampant. I was trying to stay legal which involved a lot of accelerations and slow downs. I also felt that I was pushing this harder than I should
I learned at camp that one reason I might have been having gastro issues in other races was due to blood diversion to keep my body cool. I needed to keep my core temp down through the intake of cool fluids and pouring cool fluids on my body.
Each aid station had cold water bottles and I used them. I was staying right on plan with my nutrition and fortunately my HR started reading consistently so I could adjust my effort to keep my HR where I needed it.
Not too far into Richter Pass I could feel my quads start to spasm. This was not a good sign this early in the climbs and I cannot account for why it was happening. It never got debilitating but it was not a good sign this early.
The crowds on the bike course were amazing. Everywhere along the course there were people cheering and all the climbs made you think you were at the Tour!
As planned the only stop I had was at special needs to reload nutrition. This went quickly.
After Yellow lake the significant climbs are finished and it is mostly downhill into Penticton. However we had a pretty good head wind which took some speed away on these descents. It also really slowed the slight uphill section back to town from the airport. Bike done in 6:34 which all in all on this course is a good time for me.
T2
This was a little slower than I wanted mostly due to my inability to move (I was frozen for a short time right off the bike) very fast to get my bag and get to the change tent. Put shoes on (did not change socks) and headed out for the marathon.
Run:
The run starts with a short out and back along the same route you follow at the end of the run, then it proceeds out of town for a long out and back. My plan was to run between aid stations and walk through the aid stations. Again, I knew I had to keep cool to be able to keep fueling. My plan worked well through mile 9 although at a slower pace than I had hoped (about 11 min miles rather than 10 min miles). At mile 8 both quads seized pretty badly. It did not feel like an electrolyte deficiency but more a fatigue type seizure. I can't be sure but I felt good, had been taking salt sticks consistently, and was fueling so that was the only reason I could think of. I adjusted by running plan to run until I started to feel spasms then walk until I could run again. Until mile 10 I was getting about halfway between aid stations before walking. At this point running became a moot point and I was reduced to walking at about a 15 min pace. As this is also where some significant hills come in walking became the order of the day.
I picked up my special needs bag at the turnaround and changed to dry socks. I kept walking as briskly as I thought I could back through the hills. I kept feeling like I had a rock in my left shoe. I stopped at road sign and check and found nothing. I ended up stopping two more times to look through my shoe and sock for this damn rock. I did not know at the time but there was no rock…it was an enormous blister!
Most of the return trip except a short section along the lake is a gradual uphill grade. After miles of walking, my pace was slowing. My legs were seizing, feet felt like they were both very swollen and inflamed and my right knee was very inflamed. At this point it was one foot after the other as the sun set.
Town was a welcome site but it felt like it took forever to get through it to Lakeshore. The crowd was great along Lakeshore. For the final leg the course goes further out Lakeshore than the beginning leg. Longest 2K I have ever walked but I knew I would make it. As I walked through the finish line I felt relief and total exhaustion.
Post Race
The 'catchers' had to support me through to the area outside massage and food. Catherine was there and as promised I had a smile on my face!

I laid on the ground and had some soup. Felt pretty good considering the day. Managed to get a massage and we waited for Michael (Jean smoked the course in 12:37). Midnight rolled through and Michael did not make the cutoff…bummer for all of us.

Goals:

All met but the time goal so a very successful day. Training can take care of muscles that get fatigued to early. Figuring out how to adjust for the heat to keep my gut working was a huge success for me. That allowed me to continue fueling for the longer day, feel good in the process and have fun. A great day!