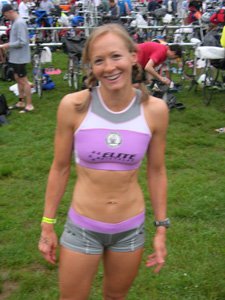 It's been an interesting season so far and I still enjoy every competition although my performances have not been as impressive compared to years past.  This year I have lost a bike, gained a new bike, gained new sponsors and learned that some people truly care about the success of others. My biggest supporters are David Glover, Joanna Zeiger, The guys at Elite Bicycles and my client Howard Douglas who sponsored me for New Orleans, Columbia and Rev3 Triathlons.  Howard, thanks for your support and you look GREAT! Also De Soto Sports (clothing), Salt Stick (www.saltsticks.com) and First Endurance nutrition vitamins have also provided me with great support and sponsorship and have proven to help me with training and racing triathlon.  These companies provide the greatest products triathlon has ever seen!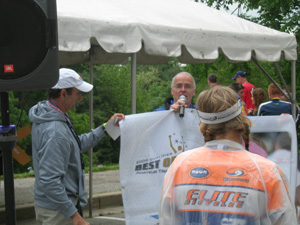 I did not write about Columbia Tri, but it was nice to receive a banner for the Best of the US from Jerry McNeil. Vigo's events are always fun and and competitive and I think columbia  is a such a local favorite that it is hard to not do the race.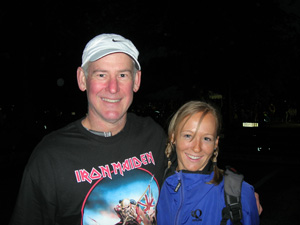 My client Bill Goodrum had a great bike split for his relay team.
A very fun and challenging event I did in June was the Rev 3 tri.  This wonderful race is part of a new series of triathlons that are held at amusement parks and provide first class venues.  The course was by far the most challenging I have ever done and I would definitely do it again for some sick reason. 🙂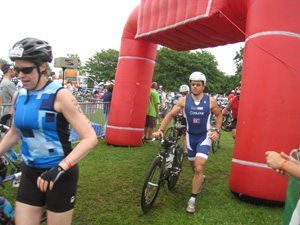 Then there was the She Does Tri relay team at Eagleman where I swam strong,  David biked a super fast time , and my client Brenda had a PR for the run.  We placed second for the relay teams and Bill Goodrum who biked super fast also got a second for his relay team.  Great Trophies Vigo!  This was also the weekend Elite got me on a brand new bike!!  I have never known a bike fit company to be as good as Dave Greenfields.  All the guys at Elite are so wonderful and full of personality. 🙂
My latest race was the Dexter Energy triathlon in DC.  This event featured the International Triathlon Union (ITU) professional race series event right in our backyard!  Even though it was a 6 am EARLY START I didn't mind because I felt the hunger to compete.  I went into the race sneezing, coughing and feeling weak but I was already there and the claritin was helping a bit.  I was glad I didn't back out because it was the  first time this year that I actually felt like I could push myself.
The swim in the Potomac was not appealing but I survived it without any side effects, I hope:)  The biggest change for me at this event was I had my new custom fit bike from Elite.  I was very happy to be on a bike that fit me again and I could feel the plastered grin on my face as I pedaled through the streets of DC.  I knew some athletes racing and they all congratulated me on my new Elite Ride.  My friends Katie and Matias both raced awesome too and I saw my buddy Christy out there who was glad she competed that day.  I heard David and others cheer me on all day.  It was nice to feel the energy from the screaming fans.  I did have a bit of a funny scare.  My buddy Kim Larson, who is an official was at the mercy of her driver and rode right up next to me on the officials motorcycle while I was on the bike course.  They were so close I could feel their body heat!  Those guys almost took me out but it was funny to talk about since it was just a close call…..  As I ran into mile 3 of 6 I had the most GOD AWFUL side stitch but the rain coming down at that point cooled me off and I was feeling good just striding out over the rolling hills. I just ignored a couple of the strong female runners that flew by me and kept as much composure as possible. My running was not strong enough to be as competitive as I wanted but I could manage not to slow down  too much even with the cramps.  I could finally pick the pace up near the end as my side pain was diminishing and crossed the finish line feeling happy to have been a part of it all…4th Elite female and 15th overall.  10th fastest bike split!
Stay tuned for my next race when I will travel with David to the breath taking Napa Valley in California to do Barbs Race, half Ironman for women only.   Half of all entry fees from Barb's Race will be placed in the Vineman Cancer Charities that donates to local cancer charities.  David is racing Vineman Full (Ironman distance), which holds a special place in his heart so we will be on the course at the same time doing different races.
Finally I have to highlight JZ my friend and coach who keeps me on track and sticks with me through all my ups and downs.  It feels good to have someone believe in you even when you aren't at your best.  Thanks JZ you are truly an inspiration.  Joanna Zeiger remains the world record holder and world champion for the 70.3 distance and an olympian from 2000 Sydney Olympics.  She has won more races than I can count and is the best coach I have ever known.