I must say I am very proud of PT Hogan.  Patrick is not only a great client who believes in my coaching but he has a positive outlook on life.  Patrick's great sense of humor and determination as an athlete motivates me to smile and help him realize his potential.  He set a goal to do a marathon and accomplished it.  Even though his training was not perfect, he did key workouts to get him to the finish line and although he had some aches and pains he finished healthy and is ready for the next adventure.  Read this at your own risk of being entertained:)  Here is his story: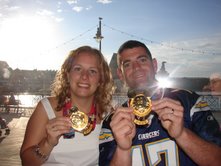 So, in July my wife, Jodie, came to me and send these unthinkable words "lets run the Disney Marathon." WHAT??????? I thought how i just felt after my Baltimore half marathon and it wasn't pleasant but i did record a PR. So me being the good sport I am said, "Sure, sounds fun."
I consulted with my friend and coach, Krista Schultz, and told her of my plan to run the marathon. Krista of course sprang into action and developed one hell of a training plan for me. The key to any Krista training plan is of course FOLLOWING IT!!!! For the most part, I did. I paid special attention to the long runs. It was a eye opener during these runs though, especially the ones that lasted 2:30, 3:00 and 3:30. I HAD NEVERRRR run that far in my life. To be honest, I never thought I could. That's been the great thing about having Krista as coach since 2006. I have been doing things in running and triathlon that i never believed i could do. The only thing that I should have done (i knew this the whole time to) was do the speed workouts. Ummm…well I was just to lazy to do them (big mistake).
On 1-11-2009 the Disney Marathon finally came. I woke up at 3:00 am, ate my traditional bagel and peanut butter with a banana as we headed to the race site. Unlike most triathlons I do, I was not that nervous going into the race. I did however have a light soreness in my right hamstring and soreness in my top half of my gluts near the hip. It did not seem like a big deal though.
We headed over to are starting spot by 5:30 am. At 5:50 am, the race started with a Fire Work start. A FIRE WORK START!!!!!!!! Wow, only in Disney to you get something like that. So off we went with 15,000 other runners. The plan Krista laid out for me was to run the first 13 miles in Zone 2. The move into Zones 3 and 4 for the next 13. I was a bit worried about this due ot the fact that i had ignored my speed work. Though i thought i could still manage my heart rate.
The first 6 miles went easy. I was easily in Zone 2. My wife and I were running slow, but hell i did not care. I just wanted to have fun. It was fun to, we passed through Epcot and saw dozens of Disney characters. The vibe of everyone was still fresh and jolly. Well something started to happen to me at mile 7. Fatigue had set in to the back of my legs, espically in the area that is behind your knee (the part that connects your hamstring and calf, i am not sure what that is called?). This was very ODD, i usually did not experience this kind of feeling untill mile 16 or so. To have it in mile 7 was disturbing.
Once we got to mile 10, the back of my legs were even worse. This is were I discovered BIO-Freeze. Geez, this stuff is great. It is a gel that you rub on your body. Once its on it temporarily numbs your muscle and gives a nice "cool" feeling to your skin as well. This stuff helped me a great deal throughout the race. As we entered the MAGIC KINGDOM their were tons of fans inside the park cheering everyone on. This was my favorite part of the race. There was just something cool about running through this particular park.
As the excitement of MAGIC KINGDOM faded as we ran away from it. The back of my legs began hurting again. I was just pissed this was happening, but knew that no matter what i had to keep moving forward. I kept chugging but unfortunately, by mile 15 my heart rate had sky rocketed into Zone 5. I was not running any faster, but my heart was working much harder. I knew i had a long day in front of me from their.
At mile 17, my legs had had enough. I felt a tad dizzy. I had to tell my wife something i have NEVER had to tell her before "Babe, go ahead from me. I am topped out. I need to walk some." UGH, I did not want this to come to us separating but she was running very well. I did not want to slow her down. My wife went ahead, and I began to walk some.
So i am thinking i have 8 miles left on legs that feel like they have run 30 miles already. I tried my best through the next 7 miles to keep my spirits up. For the most part i did. I never thought for one moment i would not finish the race, but my hope for running under 5 hours was disappearing in a flash. I just had to accept it. My plan for miles 18-25 was to run to the water stops then walk. UMMMM, yeahh….That did not happen. I had to walk a bit for each mile several times during that mile. I kept thinking about a guy who told me early in the race that "once you get to mile 23, you will feel fine again." Well guess what?? THAT GUY WAS WRONGGGGGGGGGG!!!!!!
I felt even worse at mile's 23-25. I was walking alot. I was cranky. I did not want to drink that PowerAde anymore. Hell i did not want to run anymore. My heart rate was a mess. I was clocking in like 12 to 13 min miles. Haha for all that, I knew that if i could just hold on a bit longer I could accomplish something great (at least for me anyway)
So finally mile 25 came. I had had enough of walking. The 5 hour 30min pace group was now running next to me. I said to my self "come on, I need to go under 5:30." So I ran a triumphant 12 min last mile, haaa. O yes, my left groin started to cramp up at the same time. I just laughed thinking "Well, what's one more ache?" The great thing is, i did not walk.
I hit the 26 mile and there was a singing choir. A SINGING CHOIR!!!!!!!! HA, again only at Disney. Well at 5 hours and 26 mins, I, Patrick Hogan, crossed this finish line. I was given a finishers medal. It was awesome. I was so happy, my legs were freaking whipped. I did not care though. It did not matter; I had just finished my first marathon. I had to work extra hard for it. I think that made it even more worth it.
When I think back at this race, i could do much better. I should have followed my speed workouts. I am not sure why my legs started to hurt so early? That is the great thing about endurance sports though; you never know what is going to happen. I would like to do another marathon. It was great to see how far my body can go. I found out it can go pretty far. I know when i am ready to run another; Krista will be their waiting with challenging workouts.
Patrick Hogan