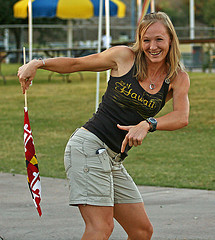 The goal was to HAVE FUN and that's what I did:)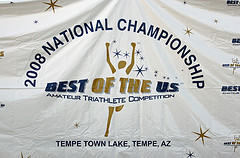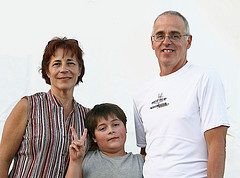 The Best of the US (BOUS) Triathlon, is my favorite race and I look forward to seeing Jerry and Trudy, the race directors, every year.
This was my third year attending BOUS and qualified as the female representative for MD again at the Columbia triathlon.  I was supported by columbia race director, Robert Vigorito.  Most call him Vigo, and he has a great triathlon series.  I attended his Ironman race, Chesapeake Man, this year as a fan to watch my boyfriend, David Glover, race.  I was very impressed with Vigo's event and am thinking about doing it next year.  (Just a thought JZ!:)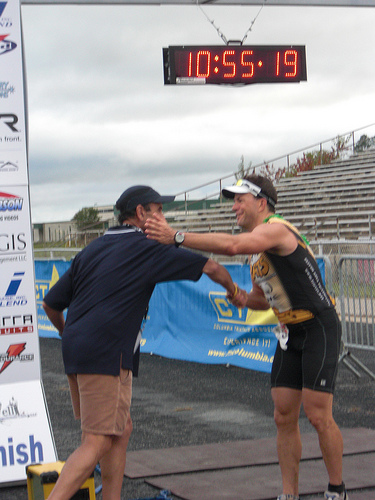 Back to the BOUS race.  To explain how this unique event works, each state has it's own qualier race.  The top male and female amateur from that race has the opportunity to attend BOUS with 49 other male and female, state representatives.  We all get special treatment form the supporting race and Jerry and Trudy go out of their way to make this a competitive event that brings out the best in all of us.  My favorite thing about the event is the relationships you make with the other athletes.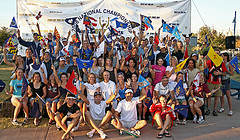 My friend and team mate, Philippe Kozub has attended BOUS the past 3 years with me and even won the entire race in 2007.  He has also been a supportive friend as well as a team mate.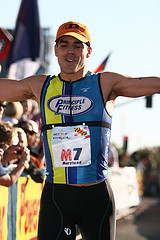 Deciding to do the race this year was a difficult decision for me because I was experiencing intense muscle fatigue, pain and constant muscle twitches.  I was physically becoming de-trained and could not produce any intensity.  I failed to recover from even aerobic workouts at a point and was stressed about making the right decision for my health and race goals.  I was basically over extended and I didn't want to go to a big event and perform terrible or hurt myself.
My coach, Joanna Zeiger, steered me in the right direction as always.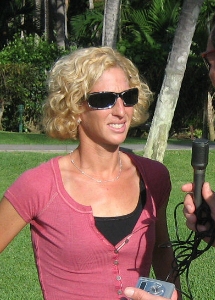 Joanna has been a positive force in my life that drives me to be the best I can be.  Not just in triathlon but all aspects of life.  JZ agreed to coach me about four years ago and since then I have qualified for IM Hawaii and BOUS 3 years in a row!  In addition to helping me achieve other great performances through her well thought out training plans,  Joanna has helped me determine when I need to rest and recover, as she refers to it as "Krista time".  JZ is one of the top female triathletes in the world and also holds her Ph.D. in Genetic Epidemiology.  She is not only a great athlete but extremely intelligent and always has great advice.  I have learned alot from working with Joanna and I think the most important thing she has taught me is to be true to myself and follow my gut.  Here is a photo of her at IM Arizona.  The BOUS race used part of that course for our event which was part of the Soma triathlon this year.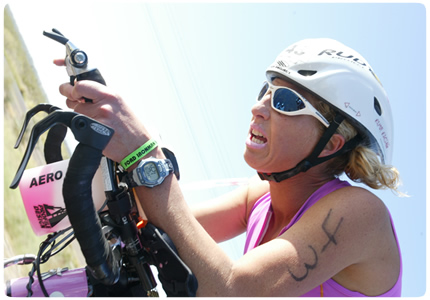 When I started to feel bad a couple weeks before the race, Joanna helped me determine the best move  We knew I would not be able to race hard due to my physical state so she suggested I go to HAVE FUN!  Wow, what a new concept:)  She put nothing on my schedule and said just take a week off and let your body rest.  This worked because I could physically recover and not worry about feeling bad after a workout.  I went to AZ and was able to enjoy my time there with David and my friends Brian and Sherry who hosted our stay.  I even got to see my friend Clay who did IM China with me and Todd earlier this year.  Joanna was right, as long as I went into the race with the right mindset I could feel good about doing the event and finishing my favorite race.  She reminded me before race day to hold back and not hurt myself (Harder said then done!)  However I was able to control my effort and finished feeling good.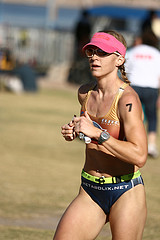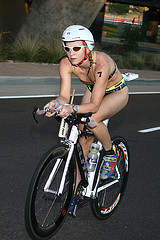 It was great to have the support of all my friends, boyfriend,  coach, and Sponsors, Elite Bicycles, and my client, Jason Watson who cheered me on.