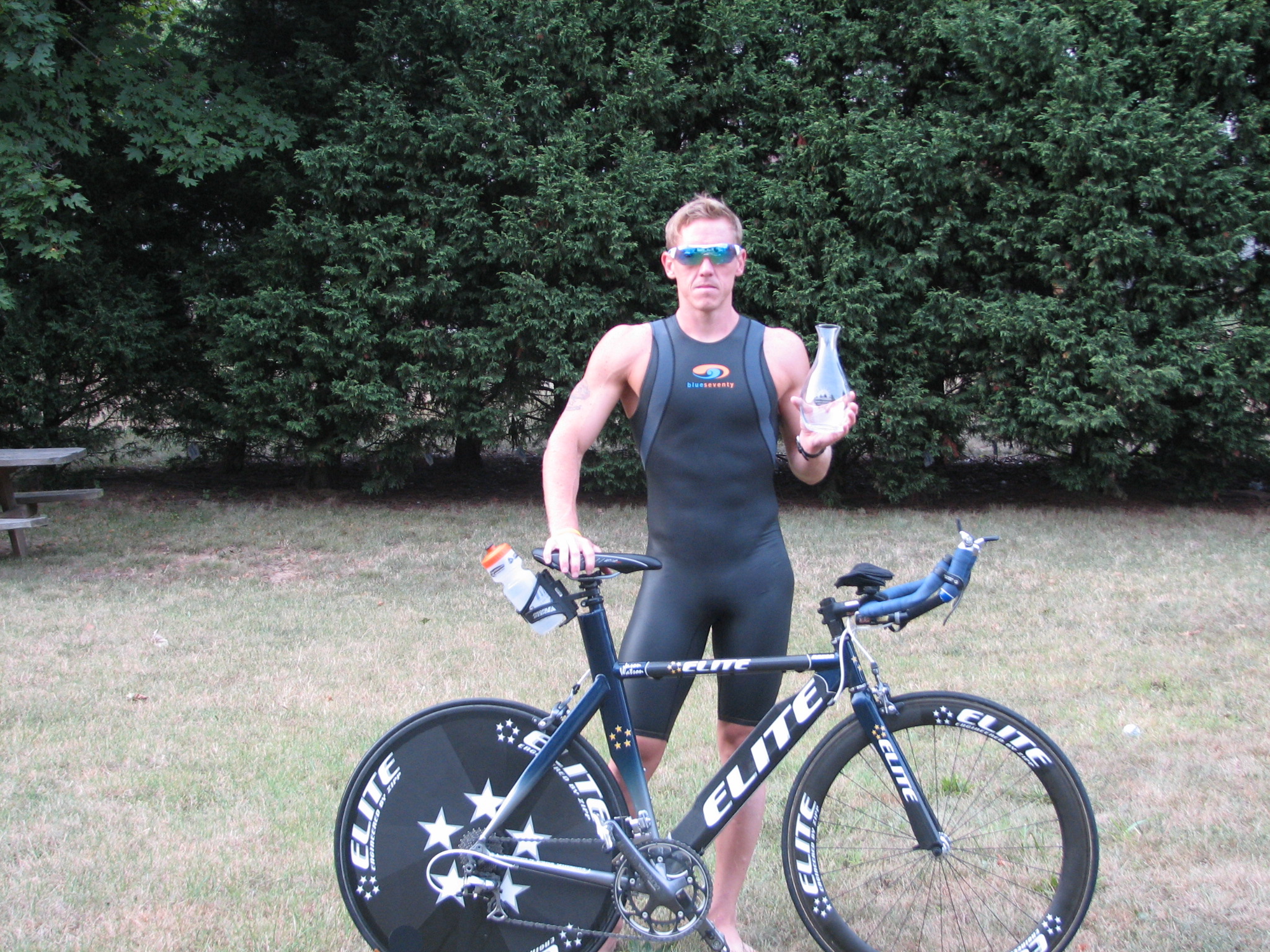 just finished my third half Ironman (Austin 70.3) for the 2008 season. I came in third in my age group finishing in 4 hours 36 mins and securing a slot to the 2009 70.3 Ironman Championships. And I feel like I should start this out by first thanking my coach Krista Schultz, David Greenfield and the guys from Elite bicycles, and David Glover for supporting me in my second year of racing triathlons. I think that the support we get is probably one of the most important ingredients for being a successful triathlete.
My second season of racing for Krista (and I say racing for) well because the time, effort and support that she puts into me, makes me what prove that it is all worth it.
There have been some learning curves this year, from learning how to a solid nutrition base for the longer races, learning how to transition from the bike to the run in the 70.3 and the way Krista puts it learning how to set small goals that led us to the bigger ones.
The biggest battle that we had to face this year was nutrition from my bike to run. After completing my first 70.3 this year Krista realized that with the proper training and nutrition then the results that we both desire could be obtained. Basically it came down to figuring out what worked and like they all say, " Train like you race".
Now with two 70.3 ironman's under my belt, we felt like it was Austin would be a good fit. I had just finished the Luray International and the strategy was to take a month and half off and concentrate on getting ready for Austin.
So with that we kicked it into high gear. My running and biking became more tailored and harder. There definitely were times that in the middle of my workouts that I cursed Krista's name (has I'm sure she is well aware it) but in the end it lead to the results that she knew I was capable of achieving. We did everything from increasing my time on my track runs, to running longer on the hills to doing double brick workouts.
Just before leaving I sat down with Krista to go over my nutrition for the race, we knew that it was going to be hot and with what we learned from my other races we really need to hone down my nutrition for this race.
This is what we came up with:
4:30 am
2 packets of Go Lean Kashi oatmeal Honey & Cinnamon
1 Fagu Yogurt w/ mixed fruit and Kashi Granola
7 am
1 parrallo bar
Protein w/water
While on the bike
1 bottle w/ 5 scoops of Hammer
2 bottles of water
2 salt tabs every 15 mins = 20
2 gels
So let me start out by saying if you have not raced in Austin or a race put on by www.endorfunsports.com I would highly recommend it. With that being said the Austin 70.3 was the most fun I've had a race I've had to travel to. I ended up coming out two days prior to the race, which is about my normal. I always like to get settled in and relax as much a possible. The only mistake that I made with my arrangements in Austin was that I did not do a rental car. So anybody that thinks that this is going to be the way to go, I highly recommend that you don't. I was quit fortunate that we have such a awesome community of triathletes and some of them were more then willing to give me a ride.
With showing up two days early, I had more then enough time to get my bike ready, eat some food and get some sleep. I arrived at the hotel, and this time I stayed at the hotel that was putting on the expo. And let me tell you it was great, what a time savor. I put my bike together, grabbed a quick bite and got in my workout for the day. And I was off my feet by 7 and in bed by 10. I was able to get a whopping 9-10 hours of sleep Friday night, from everything I've read they say that two nights before the race sleep is the most important. Check the block on that one..
I woke up Saturday morning around 8 am relaxed had lunch with a friend and was back at the hotel by 2pm in order to get over to the race site for mandatory bike check in. (I love races that require bike check) I feel like it give me a since of relief and less I have to worry about race morning. Oh let me tell everybody out there, if you fill your tires up with an CO2 cartage be prepared for a flat tire the next more. The CO2 will dissipate from your tires. I had a brief scare Saturday afteroon. Tire was flat and I was racing tubulars, even though I had a spare I've always been told that it takes a day or two for everything to get set up properly. I had the tires check and everything was ok. So we filled them up with air and I was good to go.
So after my scare I finally arrived at bike check, got a good feel of the in and outs of transitions. Jumped on my bike to go complete a small brick and get a feel for the course. (Because as I stated earlier, I had no car). Got back to transition set everything up and was on my way back to the hotel for hopefully a good nights rest.
I say hopefully because in the past I tend to toss and turn for what seems like all hours of the night.
After getting a to bed at 9:30 pm, think I was able to get about six hours of sleep, which is a first for me. I woke up at about 4 am, I like to get up about 2 hours prior to transition opening. I feel like it gives me enough time to get a good breakfast in and get myself going for the day. With a pre-planned breakfast and my race nutrition setup the night prior I was right on course. I got out the door by 5:15 and I was on my way.
Race conditions were great, we had cloud cover all day long. Which kept the temperature down. Which led to some great achievements during my race. Some of things I've read say fit in small goals through the race. I new that the first step to a successful race was good nutrition. With that block already checked, this is what I was able to achieve during my race.
Nutrition was pretty much right on. (still need to fine tune it)
Did not have stomach cramps

I did get a little sick on the bike????
My swim was great
I did not get flustered

Swam strong (stayed with pack)
Bike
Tried out new aero helmet – transition went well

Legs felt great maintained 23.5 first ½ – only dropped off by 1 mile on 2nd half.

Forgot to take off watch and put on arm – need to come up with better way of doing this. (Or get a better computer system)

Ran out of fluids right out at the end of course
Run.
Did not walk once- stomach did not cramp during the run.

Nutrition was right on

Ran a hell of a lot better compared to my other two halfs
All I can really say at this point is thank you to the Krista and David Greenfield. And to anybody that is looking to a Half Ironman or is looking to improve, trust yourself, your abilities and trust the people that are helping you achieve your goals.
And remember no matter what level we are at, "We all have much to learn and take away from our successes and failures".
Thank you Krista.