"The best things in life are the people you love, the places you've seen, and the memories you've made along the way."
~UNKNOWN
Vineman/Barb's Race is my favorite half Ironman distance event! This year marked the 25th anniversary of Vineman. The race director, Russ Pugh, hosted a nice wine and cheese ceremony to celebrate the history of Vineman a few days before the race. A few of the past winners including Brad Rex said a few words about the race and then they played a great slide show with highlights from past years. It was neat to see my husband David, Brad and all the amazing athletes who had won Vineman in the slide show!
Barb's Race is a fundraiser for cancer charities and happens the same day as the Vineman Ironman. It is the only all women's half distance triathlon in the world and better yet it's located in Sonoma County, CA – wine country!
Overview of Race Course
The race has two transitions starting at Johnson's Beach in Guerneville (Transition 1) and finishing at Windsor High School (Transition 2).
Highlights of the race course include the mellow Russian River swim course. The shallow depth of the water allows you to swim or run. You could stand up in the water and literally run through the River if you wanted. It's a clearly marked out and back swim course.
In addition to a lovely swim venue the bike course is my favorite part of the race. We cycle around beautiful vineyards and pass wineries along the way. The rolling hills and climbs are reasonable and help pass the time with a mix of flatter sections. Either a road or triathlon bike is appropriate for this course.
Finally the run is hilly but has as many downs as there are ups. Parts of the run course are shaded which was a nice relief from the sun and heat this year. You complete two loops of the run course and finish at Windsor High school (Transition 2).
About My Race Day
Brad Rex, very good friend and past Vineman winner, dropped me off at the swim start and after some words of wisdom he sent me along my way.
I saw some of the She Does Tri girls preparing for the day in transition and we were able to chat for a bit before my swim start. They were easy to spot in their sharp looking 2XU jerseys that Kathleen Hayes designed for us!
Swim
After pulling on my two piece De Soto wetsuit and wishing the girls good luck I headed into the water to warmup. The ladies in my age group all gathered at the start line in the Russian River and once the horn sounded and we were off! We spread out quickly and I found myself racing against three other women all the way to the swim exit. Brad was there cheering for me when I exited the swim and after grabbing my bike I started up the short hill out of transition and left Johnson's beach.
Bike
At about mile 15 into the beautiful and scenic ride I heard from a spectator that I was in second place but was soon passed by a few strong cyclists. I enjoyed the bike course and worked hard on the hills. I neglected to drink all my fluids which hurt me later on the run but it was enough to keep me moving steady. At mile 45 I started climbing the hardest hill of the day, Chalk Hill. Once I was over Chalk Hill the course did not feel easier but I was able to maintain some momentum using a combination of standing and spinning in a lower gear.
My advice for anyone preparing for this race is to build hill repeats into to your cycling workouts.
Run
I entered transition 2 at Windsor high school and heard my sister Greta and Ally cheering loudly! I was so excited to see them that I almost forgot I was racing but quickly refocused to rack my bike. I grabbed my shoes, visor and water bottle and started running toward the exit where my friend Kim, who was volunteering, directed me.
The first few miles of the run were a challenge as I could not feel relief from tight muscles as a result of the 56 mile hilly ride route. After I hydrated and fueled more through mile 4  my legs started to feel better but was I passed by a woman. I had only done a few brick workouts (bike workout immediately followed by a run) so I was now paying for skipping several of these sessions in training.
Don't skip your brick workouts!
Once my legs came around I started receiving compliments from the crowd at how strong I looked and it gave me some good motivation. I could see the woman who passed me and I started closing the gap. The day was heating up and I heard someone say it was in the 90's. Cramping, chills and overheating were all apart of the struggle to keep moving but I managed an 8:50 pace with the help of excellent aid stations and volunteers along the course.
While running, I spotted several of the She Does Tri Girls on the course and cheered for them as I received their cheers and smiles.
Finally, I crossed the finish line at around 5 in a half hours in 7th place and won my age group! Even though it was far off a personal record I was thrilled! It had been years since I had raced a Half Ironman and felt good. Goal accomplished!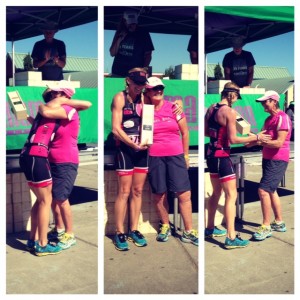 The best part of doing Barbs race was having my sister, good friends and team mates (She Does Tri Girls) there sharing in the experience.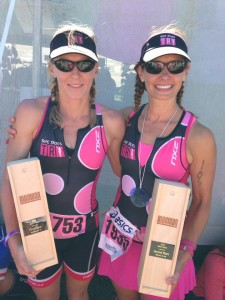 After the race the She Does Tri Girls gathered to celebrate the day!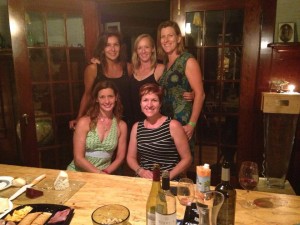 Greta, Ally, Brad, Abigail and I visited a winery and brewery the next day. This is the wonderful thing about racing in wine country, you get to celebrate and vacation at excellent wineries after the hard work is done!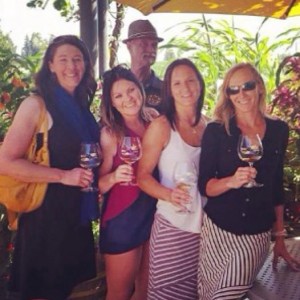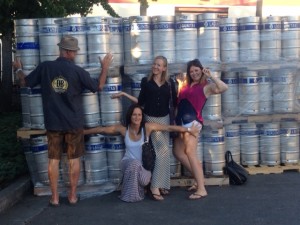 The She Does Tri Girls are already making plans for next years Vineman/Barb's Race experience, we will be back wine country!
If you need help with training visit She Does Tri.  We offer exceptional training plans, individual coaching, group coaching and consulting.