Run Galesburg Run Half Marathon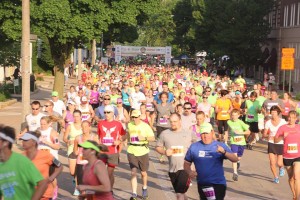 On June 1st I lined up with the other runners at the Cottage Hospital Half Marathon in Galesburg, Illinois. I had some time goals and hoped to place well in the women's field.
I love this race, mainly because my very good friends organize the event but also because it is very well run and a fun time. The after race party and after after race party is AMAZING!!!
There is also a 5k and a 1 mile fun run so anyone can participate.
Race details and training tips
On race day my legs were not feeling zippy…I had changed my running shoes to a different brand 3-4 weeks prior to the race and realized a few days before the race that my body was still adapting to the new shoe.
Tip #1 Do not change your shoe model or brand too close to a race!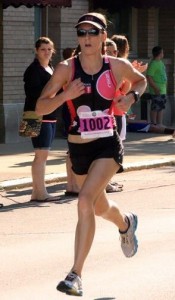 We were visiting, my husband, David's family in South Carolina about a month before Run Galesburg Run and the airlines lost my luggage with my running shoes.
We went to a running shoe store, but they did not sell the brand and model I have been running in for the past 4 + years. The owner suggested a different model that was similar to my normal shoe. I loved the new pair instantly – they were light and had more movement in the sole.But, after a week of training with the new shoes, I felt muscle inflammation in my legs. Not sure at the time why I was feeling sore all the time, I cut back on all my workouts, especially bike rides, run intervals and long runs. I had massages and took Ibuprofen but nothing helped my recovery and my speed on track became slower each week. I finally connected the dots before we took off for the race in Galesburg, Illinois and I packed my old running shoes.
The next time I ran it felt a little better and the day before the race I was convinced that it was the shoe switch that had been causing this constant inflammation.
Tip #2 Have your hydration/nutrition plan ready, especially on hot days!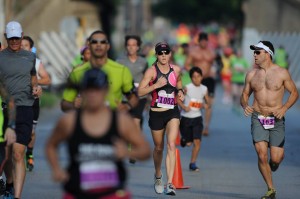 The temperature was in the upper 80's and the humidity was high and on the edge of raining on race day. To add to this the weather had been cooler at home so my body was not acclimated to the heat yet.
Although I am accustomed to building nutrition/hydration plans for my athletes, I broke my own rule: "Review your hydration/nutrition plan the night before and make sure you rehearse it and stick to your plan on race day as close as possible."
The course was filled with many aid stations and I could have taken several opportunities to hydrate but I didn't drink enough water. I also dropped my Salt Stick Caps while taking a capsule at mile 3.5 and didn't have any back up sodium.
If you are not familiar with sodium intake and the importance during entrance training and racing, read an article I wrote for Triathlete Magazine on "How To Replace Your Electrolytes." I knew what to do but did not plan and execute nearly as well as I could have which would have helped me feel better during the second half of the race.
 Tip #3 Enlist a race Pacer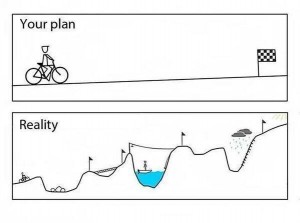 This doesn't always happen but on a rare occasion you may find someone who wants to enter the same race as you and help pace you.
My husband, David Glover, entered The Galesburg Half Marathon with the goal to pace me. The plan turned out successful in the end but I had some road bumps as I mentioned above.
"A plan is important but it doesn't always go the way we envision. Although things can get 'ruff' adaptability and perseverance will get us to the finish line!"
The time goal I set and trained for was to run 1 hr 33 minutes or faster (about a 6:55 minute per mile pace). I did a set of track sessions where I was able to hold faster than a 6:55 mile for repeated efforts so my goal was based off of my workouts.
But the month leading up to the race, my legs hurt from the inflammation and my times became slower. I simply hoped for the best on race day.
For the first three miles David and I were on pace. I moved into first place female after mile 5. Things were going well and David kept telling me "Great job, lets pick up the pace."
There was a wonderful group of cheerleaders on the course and they screamed to me as I ran by saying "Yeeeahhhh, the first woman! You got it, nice running, etc." They were so nice to have on the course at that point and I felt motivated by the energy of their cheering which pushed me through to the next mile.
Shortly after the great cheering sections on the course I realized that I was not on track for my time goal and I would not be able to pick up the pace any faster.  By the half way point, my goal went from a 1:30 to a 1:33 and then to hold on to as fast a pace as possible for as long as I could.
The hills and David's words of encouragement
After about mile 6 in the race there are three hills and this is where it got "ruff" for me. We climbed the first hill and David noticed me slowing down and yelled "Go faster, stay with me."
I told him if I didn't slow down I would bonk.
He continued with saying "Your mind will quite before your body."
I reset my mind and after backing off the pace I pushed it to keep up with him again. Then we hit the next two hills and I mentioned to him that I was in pain and that my legs hurt.
He replied, "Of course it hurts, it's a race and people who take risks do great things."
This motivated me.
When we hit the flats I picked up the pace again and felt like I could keep it up for the next 5 miles. After another mile and lack of hydrating I felt the pain seeping back into my legs and the temps were not getting any cooler.
David kept pushing me by saying "Do it for Dave, Natalie and Twix" (Twix is my dog). I felt exhausted and told him to please be quiet. He was nice enough and waited for about a quarter mile and started again with the motivating. I told him that I was going as fast as I could and my legs were in pain he said, "It's not like you are giving childbirth, you only have 30 minutes of pain left."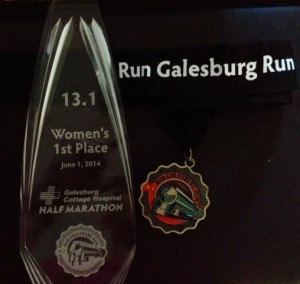 I snapped back into my awareness and regained my focus. More cheers and music motivated me as we moved to the last mile of the course. We finally approached the last 200 meters and he told me there was a woman right behind me and I pushed my pace through the finish line and sat down immediately.
I placed 1st female and I can not explain the excitement I felt in that moment as I crossed the finish line!
I can not wait until the race next year and highly recommend it to anyone!!
Click HERE for a video recapping this year's Run Galesburg Run.
More race photos: