I live in Boulder, CO, the mecca of endurance athletes, and have the privilege to train with some of the best coaches and athletes in the world. At workouts we often discuss our upcoming races.
As The Galesburg Half Marathon came closer my friends would ask me things like, "How many more days? Did you do that half marathon yet?" There were times I was surprised by their interest because some of them had just won an Ironman or made it to Olympic trials and this was a half marathon in a small town.
I realized that I often talked about how excited I was to prepare for the Galesburg Run. When anyone asked what races I had planned it was the highlight to my schedule. My Close friends Dave Dunn and Natalie Kessler created the event and that was a big deal to me.
In addition my husband, David Glover was hired to develop standard operating procedures and one of my favorite race announcers Brad Rex was the race announcer.
The Birth of Run Galesburg Run
Many small towns around the US are not exposed to the same amenities and events as a place like Boulder, CO. A 1- mile fun run can draw people away from the couch and help them clean up their nutrition for the joy of running with other people at an organized event.
Before Run Galesburg Run was developed I mentioned to Dave Dunn that I thought it would be a great thing for the Galesburg community to have a run race. In my mind Galesburg needed a reason to become a healthier and supportive place where being fit was more the normal way of life.
After a brief conversation with Dave about the idea of putting on a run race, he quickly made it a reality. Dave Dunn is a highly successful businessman and skilled marketing professional. He owns an auto body shop in Galesburg, Illinois called Dave's AutoBody and created Dave's Gator Sauce. A bottle of Dave's Gator Sauce can be found in almost every Galesburg restaurant on all the tables. Dave's Gator Sauce is one of Dave's unique marketing pieces and it tastes great with everything!
Since I have competed in 100's of triathlons and run races all over the world I have a sense of how races compare. The Run Galesburg Run event ranked very high on my list of best all time races. From packet pick up to the post race party everything flowed and felt fun. In addition to a half marathon there is a 1-mile fun run and a 5k so anyone can get involved.
The day before the race I went out for my pre-race workout:
40 min (W/U: 10 min ez, 5 x 1 min at threshold with 3 min ez in between, C/D: EZ rest of run),
I am a triathlete so I run 3 days a week and swim, bike and lift other days. Typically, I have one longer run, a speed session and a shorter easier jog. Some weeks I will add a fourth day of running depending on my time and energy. I also coach several triathletes, cyclists and runners and create training plans including run plans for beginners to the advanced.
While I was out running I saw Dave Dunn and Brad Rex (race announcer) marking the racecourse. From that point on I didn't see those two much until after the race since they were hard at work.
After Natalie finished some of her morning tasks we ventured to packet picket at the local running store, Go Outside and Play. Nick, the storeowner and race director helped customers with a smile on his face. His staff was friendly and helpful. The store was well stocked with a variety of quality run accessories.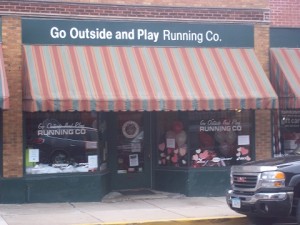 I picked up my race packet and it contained several great things including a quality race shirt and a bottle of Dave's Gator Sauce. Later that night we attended the pre-race athlete dinner and talked to some of the volunteers and other runners. Dave and Brad went back out to the race site to help with set up and I headed to bed.
It was a great race day on Sunday June 2nd when I woke up to a cool weather in Galesburg, Illinois. I enjoy races because it is like a celebration with other athletes. Today I would be lining up with more than 800 runners to compete in the Galesburg Half Marathon express (13.1 miles).
The Race Course
After a 15 min warm up with some pick-ups and dynamic stretches I walked toward the start line where Brad was making announcements. The national anthem played and there were some words from the sponsors then the gun sounded and we were off!
The first couple of miles were through neighborhoods where families were outside cheering. There were a couple of bands stationed at great spots, which was motivating. I was impressed with all the volunteers and police officers directing us so we did not make a wrong turn.
The landscape was peaceful and pretty and I found myself running alone after the first 5k. I heard cows mooing and there were some people riding a golf cart cheering as they drove by. The next two aid stations somewhere between miles 4-6 were the best; they were filled with cheers, goodies and helpful volunteers. I knew there were two climbs coming up which would be challenging so I backed off the pace slightly in order to maintain good running form throughout the climbs.
Once we turned into the wind about half way through the race I caught myself complaining so switched my complaint bracelet a few times and focused on positive thoughts only. Even though my left IT band was flaring up I kept my composure and enjoyed the scenery and course entertainment. There was a drum band and a guitar player and the course was marked to perfection.
As a reached the last 3 miles of the course my IT band was becoming painful and instead of trying to bridge the gap between me and the first place woman my goal became to manage the pain with efficient running form.
As legendary triathlete Dave Scott says, "Do what you can in the moment."
I have a great physical checklist for myself when my body aches (BAG) Back: Engage middle back by retracting the shoulder blades to keep chest and lungs open, Abs: pull the belly button toward the spine to help stabilize the pelvis and spine and Glutes: Squeeze the glute muscles so the hip flexors and quads are not doing all the work. Click HERE for 4 exercises I developed for cyclists and runners to help reinforce BAG.
I did everything I could to pick up the pace and finished around 1hr and 35 min a Personal Record! I greeted some of the other runners I met out on the course and some friends who were crossing the finish line.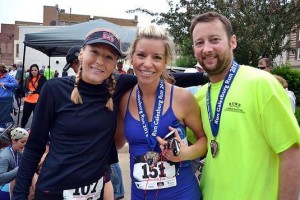 Dave Dunn was at the finish line to give me a hug and the volunteers cut the timing chip off my shoe and placed a medal around my neck. I received a beautiful trophy for 2nd place female and a very nice Saucony brand travel bag.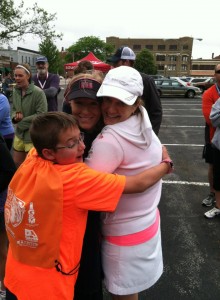 After Dave Dunn and the crew packed up the race site very quickly we headed to the post race party. Everyone drank, ate and talked about their great experience that day. There were many people that had never competed in a run race and several who posted personal records. Most importantly the race had brought the community together and helped many achieve goals beyond what they knew they could do.
Thank you Dave, Natalie and all who made Run Galesburg Run possible, for a great experience!
Krista Schultz
Founder, She Does Tri
Triathlon Coach, ENDURANCEWORKS