The Day the Unexpected Happened
by Ann Nicocelli
Introduction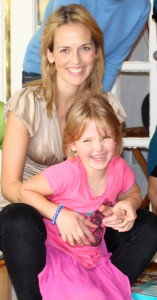 On July 16, 2010, just three months after joining the She Does Tri Camp, Ann Nicocelli discovered that she had a brain aneurysm during a visit to the emergency room. With this diagnosis, brain surgery was the only option for a cure.
Ann was an eager, enthusiastic camper when I met her at She Does Tri Camp. She was excited and determined to learn and achieve great things in the sport of triathlon. After learning about Ann's brain aneurysm and her fight against this terrible fate I wanted to know more about how she was dealing with all the thoughts, feelings, and uncertainties that came along with brain surgery. Her story which is still unfolding can give us all courage as we struggle with finding the motivation to get up everyday and work hard toward our goals. Ann is kind enough to share her experience and perspective to help others who may also be dealing with a life threatening diagnosis or are struggling to exercise and accomplish a physical task. I am proud to call her a She Does Tri Camp graduate. We will hear more about Ann's story as she continues on her journey and competes in the wonderful sport of triathlon.
In the attached article, Ann shares how her training, focus, and determination, brought her through her potentially fatal condition. She takes us through her trip to the emergency room and diagnosis, brain surgery, and recovery. She shares how triathlon training brought her through all elements of this challenge stronger and more centered – all the way to the planning for a half Ironman in 2011, just nine months after surgery.
Article
My daughter sat in the corner on a stool in a private room in the emergency area of the hospital. She was occupying herself in a very mature way for a 5 year old, while I went for tests and spoke to the doctors and nurses. After what felt like hours (ok…it was hours), the ER doctor came back in and said that the severe vertigo that I had been experiencing was likely due to stones in my inner ear being out of place.
I didn't know what this meant. I just wanted to understand what would make the intense nausea and dizziness go away. He then offered that the results of the CT of my head had come back and the blood flow from my neck to my head was normal. This information gave me a split second of relief when he paused, looked me in the eye and added, "the CT also showed that an aneurysm was found in your brain."
My foggy, pained, nauseous head thought, "What?? an aneurysm? What is that? I am a healthy athlete; it can't be that big a deal. This is about vertigo and getting rid of it as quickly a possible."
I heard the doctor. He explained what it all meant in technical terms and then softly said that I didn't need emergency surgery but that I should set an appointment with a neurosurgeon as soon as possible. He went on to say that it was small…4 millimeters…on the left side…and again he observed that I did not need emergency surgery. I think this last reflection was supposed to provide relief.
I look back on July 16, 2010 and the weeks that followed and a flood of thoughts, emotions and memories come to mind. One thought that is very clear is that I know that being an athlete has made me stronger, kept me centered, and continues to play a pivotal role in successfully taking me through a life threatening diagnosis. It has truly saved my life.
Becoming a Triathlete and the She Does Tri Camp
I originally joined the She Does Tri Training Camp in April 2010 as a fun way to figure out if I liked triathlons. I was looking for a healthy vehicle to balance a busy professional life while being a single parent. I thought triathlons would be a great way to meet new people and an activity that as my daughter grew older, we could share together. When I looked around at others searching for the same balance, triathletes seemed to have fun and achieve a balance that I admired. Little did I know what life would bring and how the training and camaraderie of the sport would become such an integral part of my life.
The camp and my training took on a completely different meaning three months after the camp took place when my aneurysm was discovered. This was a huge blow. News like this truly makes you realize what is important in life. My family, friends and work colleagues were an invaluable source of support. They all helped me plan and prepare for the unknown.
The more I learned about aneurysms, the more I realized how serious and life threatening this condition was. In preparing for surgery you need to plan for results as varied as death, permanent brain damage, or what is hoped, coming out of surgery stronger than when you entered. In order to get option three, you need to have stars align, receive excellent medical care, and believe from the depth of your heart that you will not only live, but that you will thrive through this process.
After researching the best neurosurgical facilities, I ended up going with Johns Hopkins Hospital in Baltimore. Ironically my lead surgeon, Dr. Alexander Coon, is also a triathlete. His strength as a surgeon combined with his training as a triathlete became important to my success. Dr. Coon dealt with the severity of my condition while also understanding the approach that an athlete might take going into surgery and coming through it.
After completing the She Does Tri Camp, I had signed up for the Luray and Nations triathlons. They were supposed to be my first races. I had my De Soto gear and I was ready to go. I ended up storing it all and canceling my participation in both. In order to avoid the aneurysm rupturing, I couldn't do anything that would increase blood pressure in my head prior to surgery. Even though I canceled (or in my mind postponed) the races, I kept training at a scaled down level up until the day before surgery. I swam, biked or ran regularly. Because my surgeon was also an athlete, I was able to manage this under his watchful eye. The training was essential. It kept me balanced, focused, and strong.
I approached surgery almost as if it were race day. I knew it would be hard, that there was an element of unknown, and that I had to be stronger than I ever had been in my life to get through it in a positive way. The surgery ended up being more challenging than expected. I almost lost the ability to speak, understand language, and control the right side of my body. This path was fortunately averted. Instead, I came out of surgery with all of the brain function that I went in with, along with euphoria and an acute awareness that comes from a near death experience. It turns out that the original vertigo, which put me into the hospital, was unrelated to the aneurysm. Additionally, the wall of the aneurysm was so thin that it would have likely ruptured very soon without surgical intervention. I am blessed that the aneurysm was found and forever thankful to my surgical team for bringing me through it so successfully.
Upcoming Race Schedule
My brain surgery took place on September 10, 2010. Twelve days after the operation, I went for my first run…and I have been training ever since. I ran a 10k thirteen weeks after surgery in just less than an hour. Completing the race was a triumph. I used this run to qualify for the National Half Marathon in Washington, DC scheduled for March 26, 2011.
I have signed up for the Columbia International Triathlon (1.5k Swim – 41k Bike – 10k Run) on May 22 and the Eagleman Ironman 70.3 (1.2 Mile Swim – 56 Mile Bike – 13.1 Mile Run) on June 12. I know this is aggressive given the healing I still have to do – but it is in my heart to try. I have decided that no matter what happens, it is about the journey and I am enjoying this more than I can describe. I am doing the Eagleman with a great friend, my amazing surgeons Drs. Coon and Geoffrey Colby, and my awesome triathlon coach Steve Dolge.
Training for me used to be just a way to stay healthy. It has now become an integral part of my life. Tri training is important because each sport adds a unique component to your physical and mental strength.
I was never a swimmer. I had to learn from the beginning. (Not quite to the point of water wings…but close!) I will never forget starting in the kiddy pool with my coach. The process of becoming comfortable in the water is awesome. Having a goal to swim 1.2 miles as part of a race is something that I never dreamed possible, but it is and I am actually enjoying the prospect!!
Healing from surgery is an arduous process. There are challenging days and easier ones. You realize there are times in your life when you need to ask a lot of your body. It is so clear to me now that your body can only respond at the level that you take care of it. I am now having fun indulging myself, pushing the athlete in me forward, and seeing what my body and mind can do. I feel stronger, more focused and self realized than when I went into surgery and it is invigorating.
The Importance of Goals
As a triathlete friend of mine said, "races are a celebration of all the training." It is the race and the interim goals that ultimately mark success and help you internalize improvement. Having a goal pushes you into the realm of achieving something you once thought impossible. My goal two years ago was to join my first century (100 mile) bike ride. I trained with friends all summer and then we rode the Sea Gull Century. We had a blast!! It was a rainy and windy start – but the apple pie at mile 80 tasted great and we crossed the finish line with smiles!!
Last summer my goal was to tip toe into the triathlon world. I knew I loved cycling, but I was clearly not a swimmer so learning to swim and putting the three sports together was a new hurdle. It was an unknown – but the thought of crossing that bridge was exciting. I joined the She Does Tri Camp and got a coach to help me. These two decisions were life altering for the better in ways that at the time, I never realized. Coach Steve keeps me on track and helps me set and reach goals. He also calls me a "rockstar" at those moments when I need extra moral support to keep going. The She Does Tri Camp is like the gift that keeps on giving. You learn so much within a few day period. As I move from absolute novice to more experienced in my training, different suggestions and ideas from the camp keep popping back into my head.
Nutrition & Training
Triathlon training is an excellent way to understand the links between your body and overall nutrition. I have generally thought of myself as a healthy eater, but training has made me realize how everything I eat affects my body. I am now much better at managing weight, understanding how different foods affect my energy level, and knowing what to do if I am going to go through a physically demanding situation. It is empowering. Food can control your self-perception in many ways. What I have learned about nutrition in this process has put the control back with me instead of with the food.
The memories after surgery of relearning to walk up stairs with a physical therapist are very recent. At the same time I am looking into the mouth of a challenging race schedule. My training plan feels intense – but it is by choice. I have made the decision to significantly up my game because it not only makes me happy, I feel like it is the best way to put the fatigue and post surgical healing behind me.
Every component – swimming, biking, running and lifting, is important. I am most comfortable on the bike, so I am hoping that this winter I can increase my endurance in my swim and run. I workout 6 days per week and communicate with my coach regularly online with Training Peaks. I swim at least three days per week, run and bike a few days a week each, and weave in strength training. I exercise about 10 hours per week now and I will slowly increase as I get closer to the races. Balancing this with a busy professional life and parenting is often a challenge to manage!
Although I worked out right up to the day before surgery, I suffered a significant loss of much of my strength and endurance through this process. This is typical, yet incredible to experience. My upper body strength disappeared. Under doctor's orders, I was not allowed to lift anything heavier than a milk carton for 3 months. I went from being able to comfortably perform full push-ups before surgery to not even being able to do one push-up on my knees after surgery. In addition, after the surgery my ability was depleted to the point of not being able to swim 10 meters in a pool or run half a block without being winded.
Fatigue post surgery is common. For me triathlon training is a way to look straight in the face of it all and say "that is not going to be me." Step by step I am building back better.
If You Are Considering a Camp or Triathlons
If you are at all curious about doing a triathlon or joining a camp, I strongly suggest trying it. Triathlons are great because every level of engagement is respected and celebrated. If you are just in it for fun or if you become an elite triathlete who competes at a high level, there are races for everyone. It is a wonderfully welcoming community of people. She Does Tri Camp is great because it is a non-threatening environment where you can gather insight on training, nutrition, bike maintenance, and the rules around races. A little help from people with experience can go a very long way.
The statement that "life is full of the unexpected" has become a cliché for a reason. Life continuously brings challenges and unexpected moments, both good and bad. At whatever level you enter triathlon training, it helps you handle challenges inside and outside the sport. It is one of the most enjoyable things I do in addition to parenting. I love the time it gives me to push myself to places I have never been, to reflect on life, make new friends, and get to know myself in a way that would otherwise be impossible. Oh ya…and it has saved my life.
***