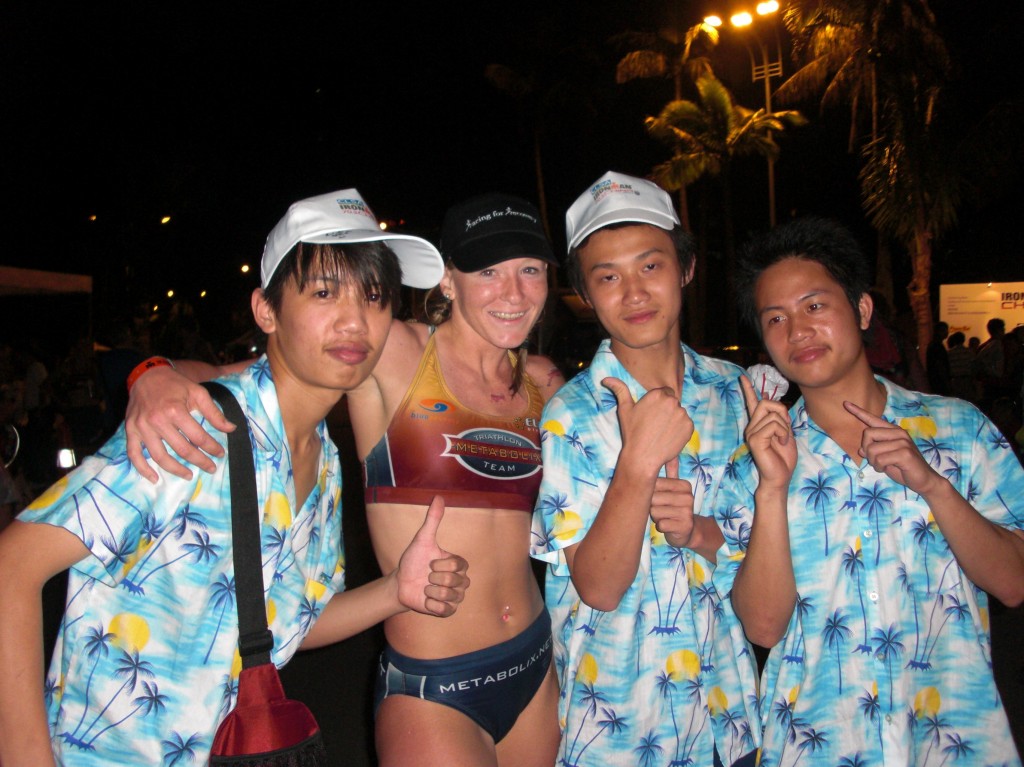 In 2008 I completed the Iron man in China on the beautiful island of Hakiou. The memories are bitter sweet both because it was a great experience and it was the beginning of a huge performance decline in my triathlon racing career.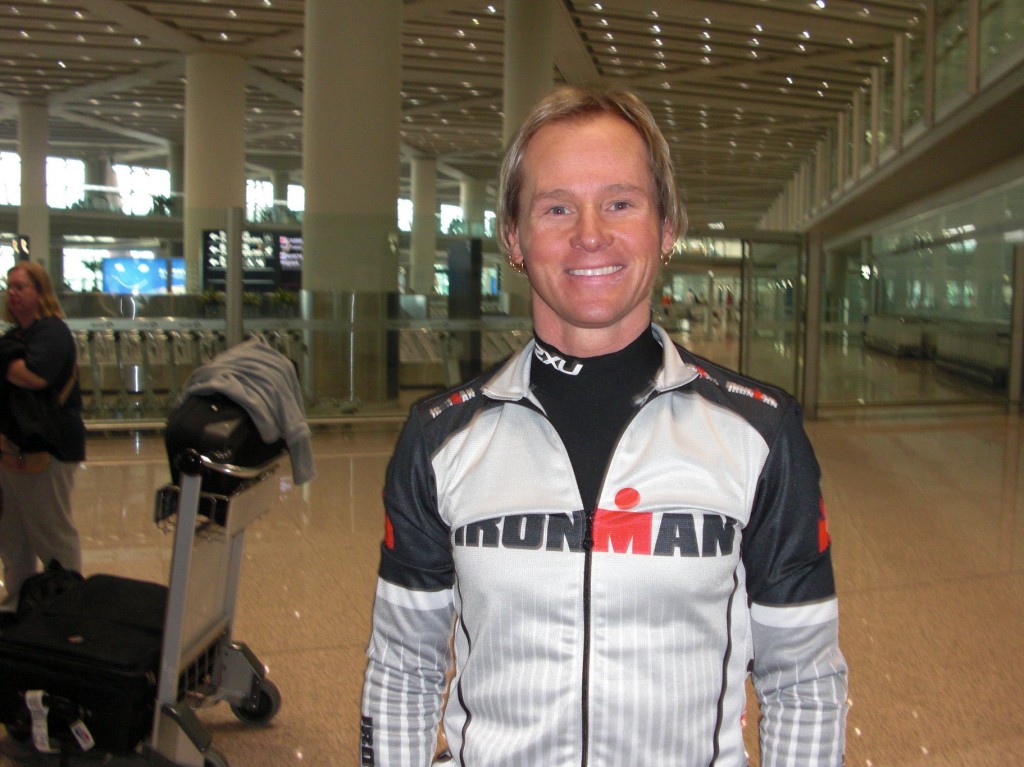 An athlete I was coaching at the time of January 2008, Todd Crandall with Racing for recovery, motivated me to do the race. Todd was very excited about the opportunity to go to China to represent his cause. Since I was recovering from a month of having the flu and some relationship issues I was looking for something to both distract and motivate me. Todd sounded excited at the idea of me racing out there and helping him accomplish the new Iron man event.
Without the help and support of many wonderful clients, friends and co-workers the trip would have never been possible. A few big supporters were Missie & Carl Wakefield, Catherine & Bill Goodrum, Sherry Rubin and Angel Lopez. My brother Alex and sister Bridget were there to support me too as my friends Dave & Ryan auctioned off people, including myself and a co-worker Dave for personal training. Sherry did her part and walked around with a bucket wearing a low cut shirt collecting cash:) There are many more who contributed to my long Journey to China and donated & purchased from a silent auction. At the time I felt exhausted from the training in March which Joanna, my coach warned me about the quick ramp in training from late January to the race in early April. She explained that it would be tough since I had taken off for months, was recovering from a bad Flu and going from a very cold to an extremely hot climate.
The Layover
The trip to Haikou, China was long (about 32 hours of total travel time including a 6 hour layover in Beijing. When Todd and I arrived in Beijing after what it seemed like living on the airplane for days we sat on a bench to rest. Todd had trouble sleeping on the plane and even after taking melatonin and Tylenol PM he was extremely alert until he sat down in the airport. He asked me if I could watch the bikes while he took a nap and I agreed. What seemed like moments later I awoke abruptly sweating from the hot airport and Todd was shaking me saying "Wake up, some Chinese could have stole our bikes." I wiped the droll from the side of my mouth and said sorry. He was half joking so we both laughed and just sat on the bench for a couple hours staring at all the Chinese walking by and not understanding anything they were saying. Finally we went to check in again for the flight to Haikou and accidentally switched passports. When we handed our passports to security they were not happy and must have thought we were playing a joke of some sort. One thing I learned in China is that the security does not have a sense of humor. We quickly switched passports and giggled to our selfs and went through the long security line.
Arrival in Haikou
Todd and I arrived in Haikou airport late at night and since he was set up with the travel agency through Ken Glah called Endurance sports travel a shuttle was awaiting to take us to the hotel. Ken provided an excellent all inclusive package for the stay in China and was nice enough to let me in on utilizing the shuttles, etc.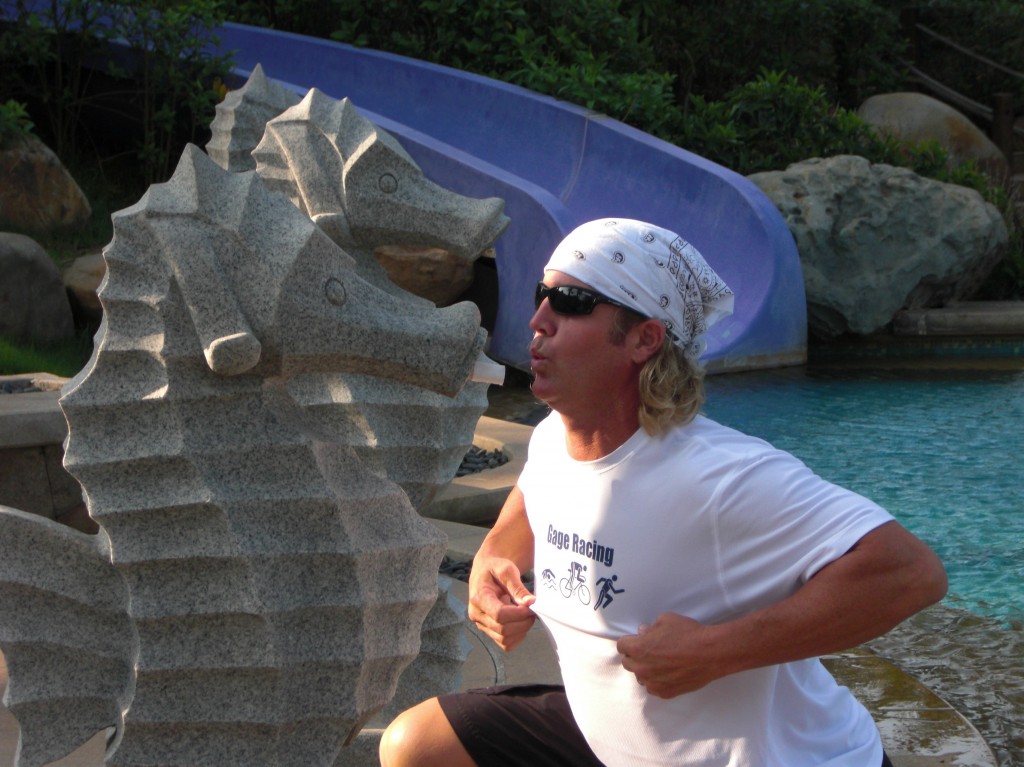 Todd's friend Clay was also staying with him and the three of us shared a room which was again nice of them to let me crash. I slept on a couch in the corner which was fine except that none of us could sleep at night.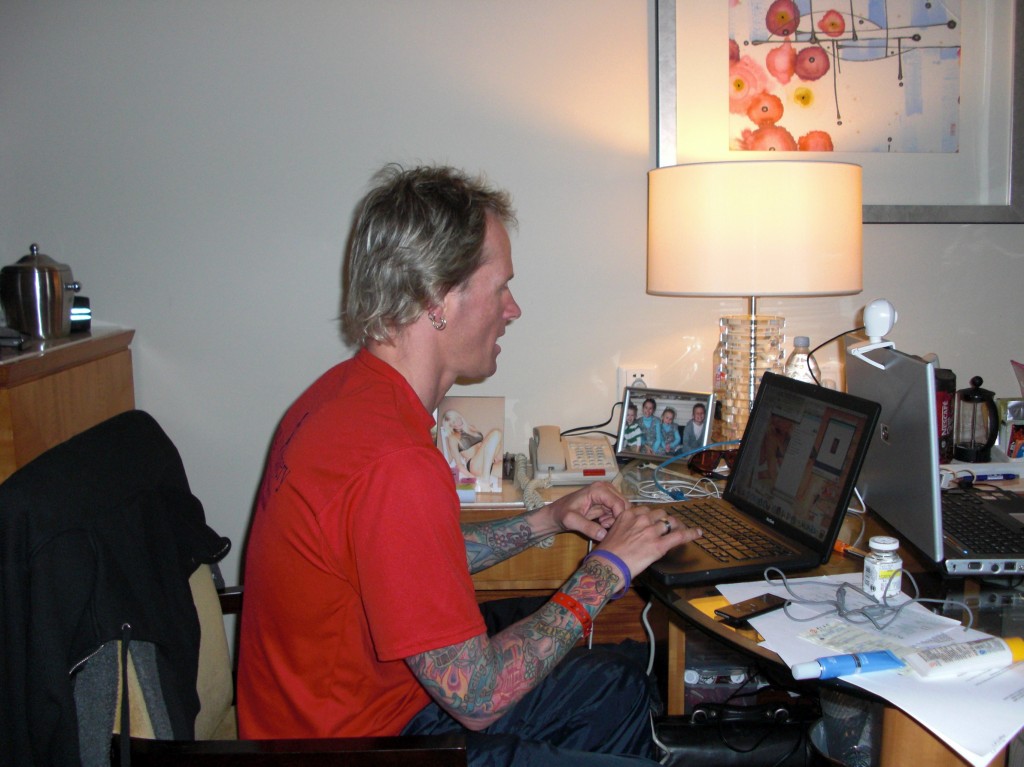 Clay and I both laughed because when Todd could not sleep he turned on the light in the room and skyped his family. All we could hear was, "SKYLAR, IS THAT YOU!" coming from Todd. He missed his family and his daughter Skylar was frequently awaiting his calls. Clay had a phone we could use and I was excited to be able to call David, my new boyfriend from back home to talk about all the exciting stuff that was happening. One of my best friends, Kristin Morrison set up this blog for me and I was excited to be getting funny messages like "Hey Krista, can you pick up a #11 for me , with fried rice and an egg roll while you are there":)
Leading up to race day
Todd, Clay and I all had trouble sleeping at night and staying awake during the day. When Todd would go to sleep during the day Clay would say "Dude don't do it, you will be up all night and we will all suffer for it." Clay was right, when Todd was up so were we:)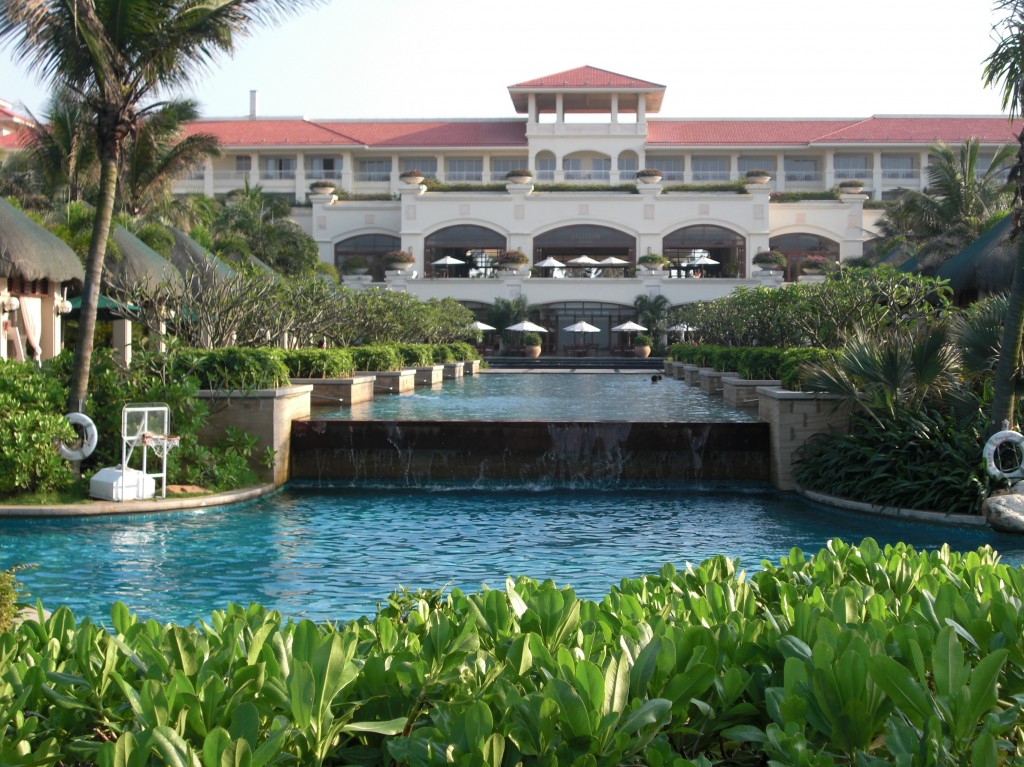 The hotel was beautiful and the island reminded me of Hawaii with the palm trees and pretty scenery. Todd was interviewed a few times by the Iron man media about his racing for recovery business and I got to say a few words about working with him and being at the race. It was fun seeing the Chinese culture and they seemed to like American's very much. Todd got plenty of stares because of his tattoos and the Chinese pointed at us as we walked around town.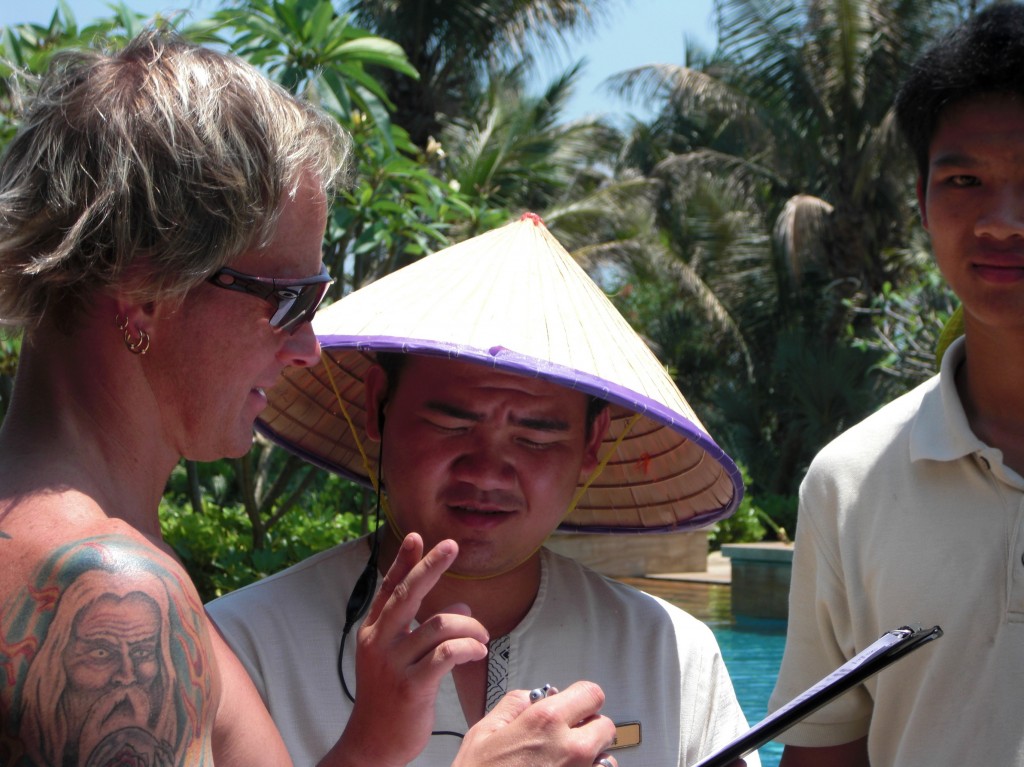 One night a dinner Clay asked, "Do you ever get the feeling you are being watched?" We looked up and to my surprise the waitresses were staring directly at us and smiled as we looked back. They didn't look away though which seemed odd. We soon discovered it was part of their culture to be attentive to the needs of their customers at all all times and staring was being respectful from their perspective. When we rode our bikes during the day we saw the Chinese hard at work in the fields and in town running the shops and looking busy. The traffic patterns were a little scary but there didn't seem to be any accidents. The buses, taxi's and cars would cut each off but there was an odd flow of smooth driving with all the swirving back and forth between lanes.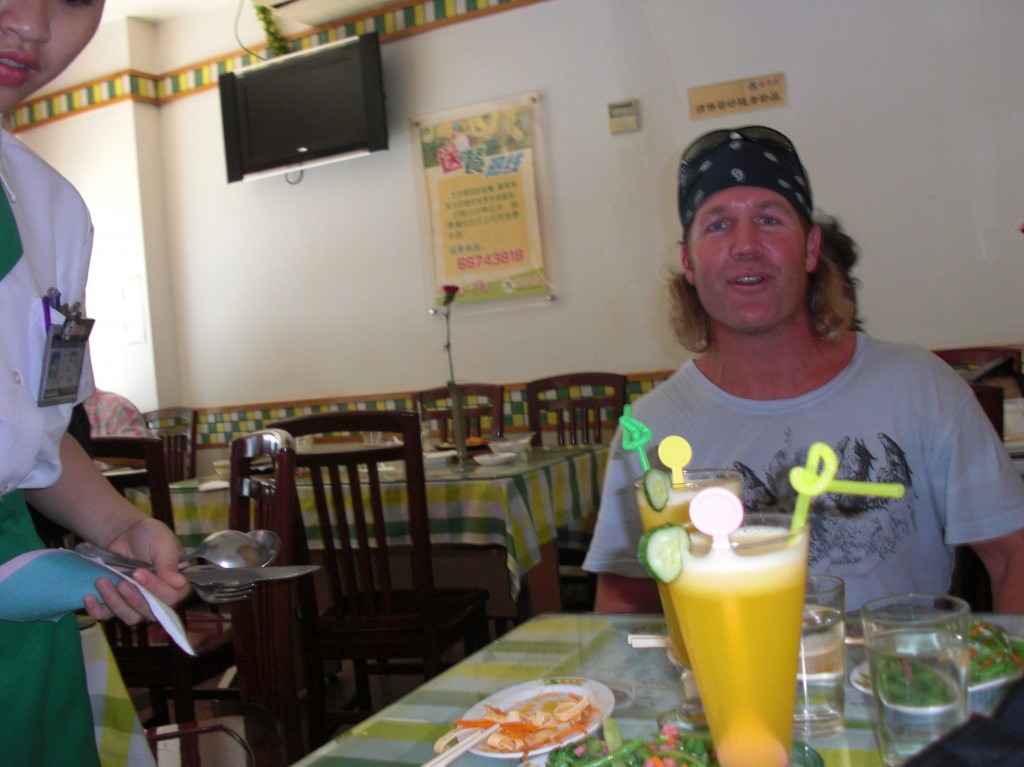 We were told not to eat local food for fear of getting sick before the race but Clay and I tried some interesting dishes so we could get the real experience. We managed not to get sick.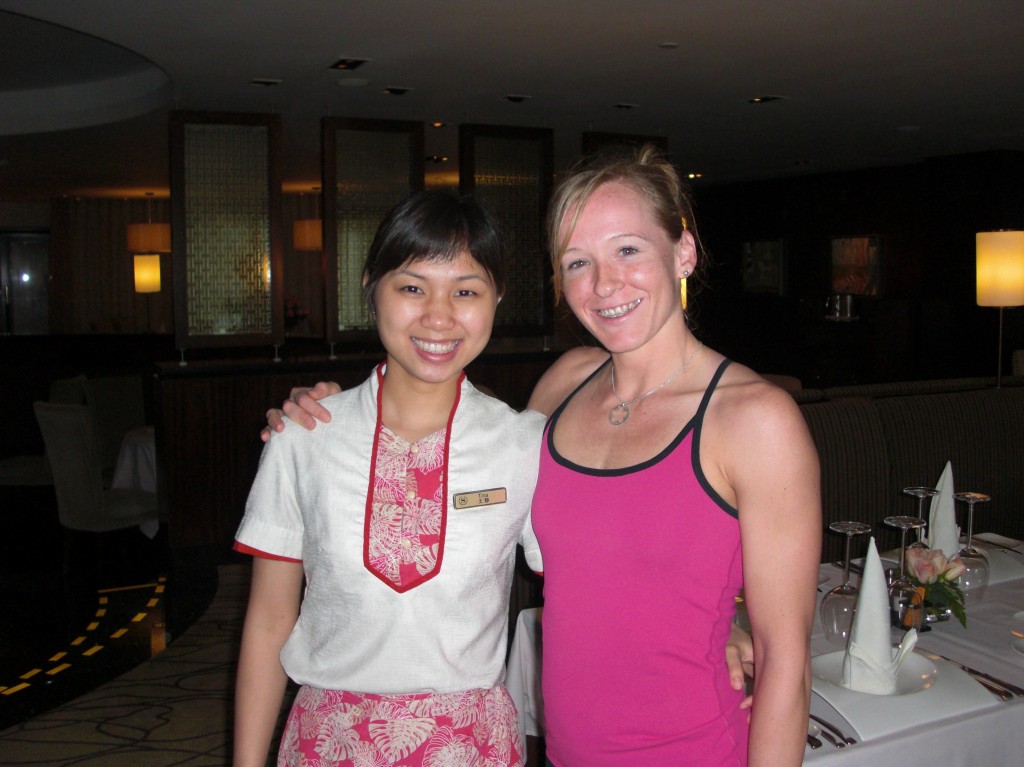 Clay had his race nutrition planned out. In addition to stacks of cheessticks, instant coffee & creamer and some other foods for daily snacking, Clay brought a TON of smuckers uncrustables. If you don't know these are prepackaged frozen peanut butter & jelly sandwich that are made to be left out until they thaw and are ready for eating. The uncrustables were part of clays race nutrition and he was prepared to eat may of these sandwiches.
Typhoon
A few days before the race the hotel management put out warnings that a typhoon would be hitting the island. The windows were all secured and we were told to stay inside. Luckily we got some strong winds but the Typhoon did not directly hit us.
Race Day
We knew based on the weather reports race day would be hot but it was REALLY HOT! The heat index was above 100!!! The swim course was long because it was difficult to see the buoys and the water was rough and dark so many people swam off course. At one point I remember looking up and a group of swimmers were coming right at me. Some how I manged to exit the first lap of the swim very far from the turn around loop. I ended up running on the beach to get there so my timing chip would pick up properly. The 2nd loop was no better, I just cited off the shoreline which eventually got me home. I exited the water with Clay & Todd. I was happy to get out of the water and ready to bike. The bike course was AWESOME! It had hills, flats and scary parts in villages with rough roads and steep drop offs so you were forced to slow down and listen to the words of support from the villagers watching. They must have thought it was the Olympics because they were so excited! "You are beautiful, we love you," They all screamed. I saw Clay on the bike and I was hoping to ride with him to have a friend around but we never linked up.
The longest marathon of my life!
When I excited the tent after about a 6hr bike ride I was not happy to run at all. The run course was all concrete so the shock on the body was brutal! My legs felt like lead and my body was tired. I saw a pro male laying under a tree on the run course getting water fed to him. It was hotter than ever and I couldn't remember the last time I felt so much pain and exhaustion. When they ran out of water on the course I thought I was going to keel over until I saw a heart warming site. Todd was moving along on the course surrounded by a group of Chinese children cheering for him. Todd was handing them water so they didn't dehydrate. They were drawn in by his tattooed covered body and remained with him longer than many of the athletes racing. He was smiling and encouraged me to keep moving. I felt a surge of energy then I saw Clay and we exchanged cheers! I started to pass a girl and she walked so I asked if she wanted to run together. She was swelling so bad she had to get someone to cut her race bracelet off and she needed more salt tabs. I told her I would alert the next water station of this which made her very happy.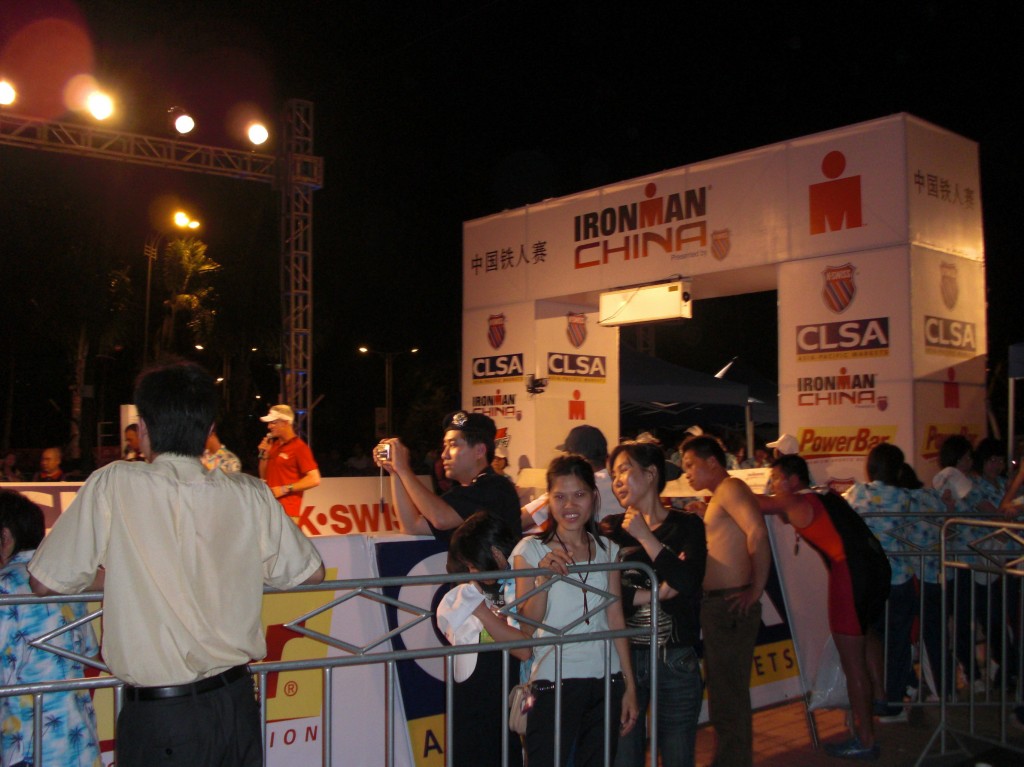 I was getting closer and the day was getting dimmer. I had 3 miles left to run through downtown which was an absolute THRILL. The Chinese were lined up for miles just like the people at Iron man Hawaii! They cheered and called the athletes beautiful and I felt my eyes tear up. The children were screaming and high fived us one by one. When I crossed the finish line the announcer was enthusiastic and I was in pain:)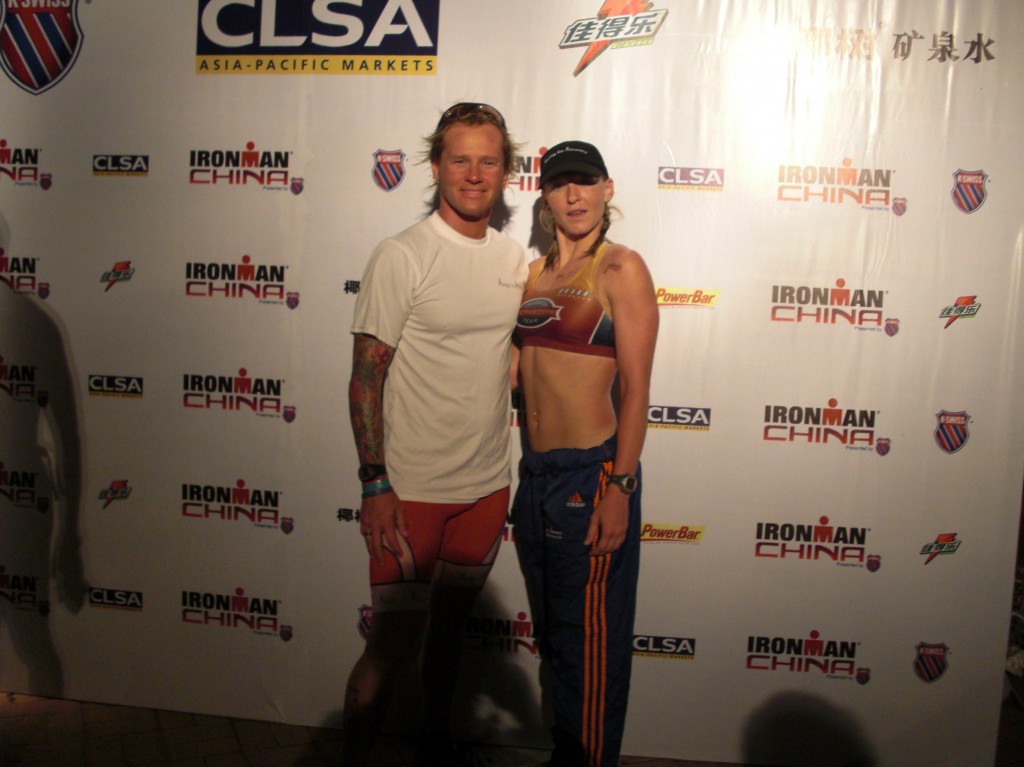 Post race & Ceremony
I was happy to find Clay and Todd so we could ride the bus back to the hotel together. We scarfed down some pizza and headed back to transition. We ran into Olaf, David's coach who won the race.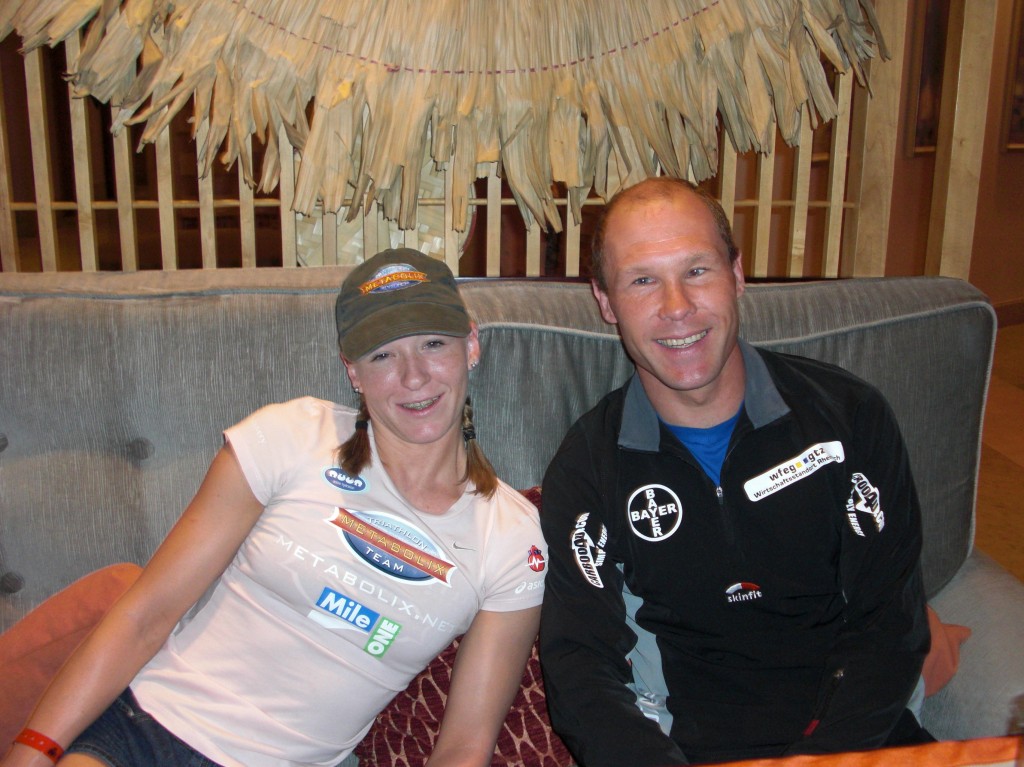 I went to the awards ceremony with Olaf and his father the next day. The ceremony began with a unique show. The locals were dressed up in dragon costumes acting out a fighting scene to loud, creative music that had a distinct beat. It was very entertaining and I had never seen anything like it before. Olaf was called up to give a speech which was heart warming. He thanked his father for support & love and the race for providing the event. I was called up to receive a trophy and Iron man Hawaii slot which was very rewarding. I passed up the Hawaii slot the prior year after winning my age group at Eagle man so on one end I thought it would be good to go back and I had 6 months to prepare but on the other end I had a gut feeling I should not take the spot because I was mentally, emotionally & physically exhausted. I should have listened to my gut because this was the beginning of hard times.  Even though the race preparation, travel and event zapped my energy I would not take back the great experience to see the Chinese culture and share in a special event with friends and many great athletes.