AN HONOR

It was a proud moment watching my athlete, Kimberly Laclair work her way through Ironman Lake placid (IM LP).  She was able to have her best Ironaman yet! It was her 3rd year in a row competing in the race and I have had the honor of coaching her all three years.
ABOUT KI:

She is called KI by her friends and family and her fans love her. She juggles a challenging schedule taking care of her children and has an extremely supportive husband and her family members are her biggest fans! I enjoy working with her and feel as though she is extremely coach able because she listens to the advice I give her and works very hard to follow the workout plan. When something doesn't work we figure it out together and make it work. She is a positive and fun loving person and it shows in her smile. It is easy to tell she enjoys what she does.

During her Ironman training adventure in 2009 KI raised over $2,000 for Memorial Sloan-Kettering Cancer Center. Here is a quote from her web site:
"A few weeks ago, I was out for an 18 mile training run, which provided me with quite a bit of time to think. As I ran, it started to sleet. I became a bit emotional as the weather worsened, I couldn't help but think about my friend, a mother to 3 beautiful children, wife, and friend to so many. She is a marathon runner, a cyclist, and a lover of the outdoors. She is temporarily unable to participate in these types of activities, and would probably do just about anything to go for a long run in the rain, sleet, snow, or sunshine. It was during that run that I decided to give my Ironman race a greater purpose."
KI'S PREPARATION: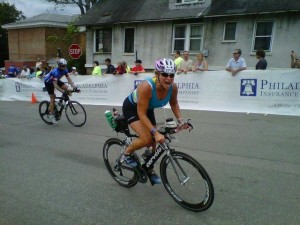 KI train's on the race course when possible and experiments with her nutrition plan regularly during long workout sessions to get her body used to absorbing the calories, fluids and electrolytes she needs. Without KI's feedback and consistent training it would be hard to prepare for the crowded 1.2 mile swim, challenging 112 mile hilly bike course and the 26.2 marathon run that precedes the finish line.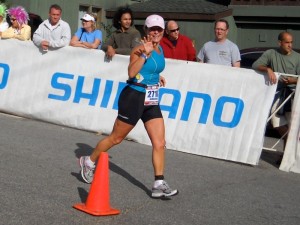 "Hurting, but 40+ family and friends at the 14 mile mark made me p/u the pace."
Analysis of KI's IM over the past 3 years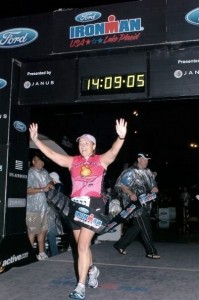 2008- swim: 1:24, bike: 7:11, run: 5:07= 14:09
2009- swim: 1:19, bike: 7:03, run: 5:01= 13:38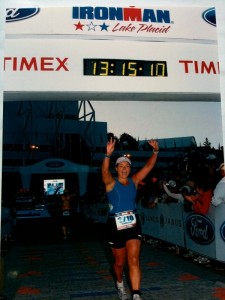 2010- swim: 1:18, bike: 6:45, run:4:59= 13:15
KI is a great example of how to be successful at Ironman and I am a proud coach!